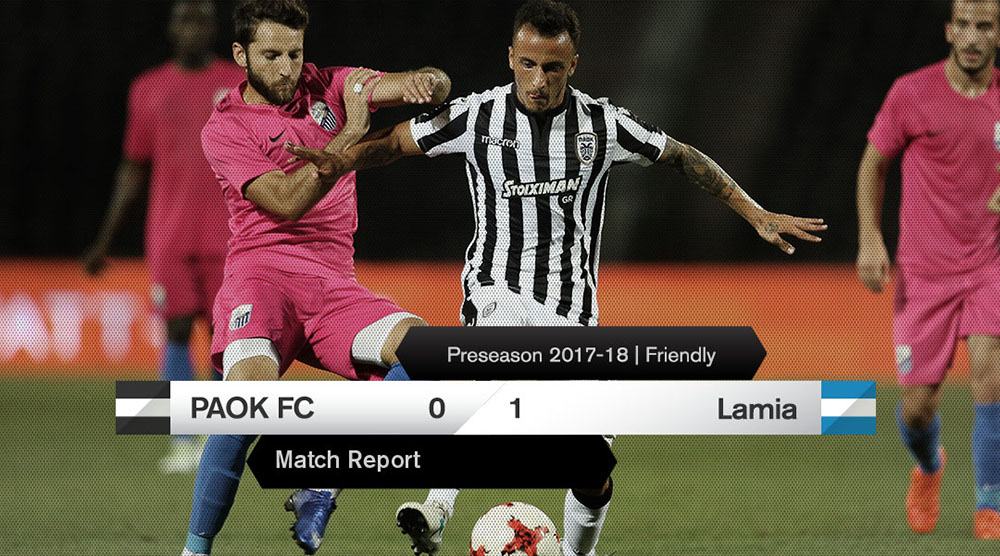 Friendly defeat with many new faces
PAOK's team with many U20 players along with senior team members who had not featured much in previous encounters were defeated 1-0 by Lamia in a training friendly match held in Toumba behind closed doors.
After just one training with his new club,  Alexandros Paschalakis  was fielded in the starting line-up for his unofficial debut for PAOK. Aleksandar Stanojević also started U20 players Tsaousis, Dimitriou and Chatzidimpas, while also giving the nod to Dimitris Konstantinidis and  Dimitris Limnios  who had barely featured in the "Double-Headed Eagle's" matches so far.
Lamia fielded an experienced line-up and started strongly in the match. In the first 15 minutes, the came close to taking the lead. PAOK leveled matters, took ball possession and wasted two big chances to score before the cooling break of the first half. After a fine combination between  Dimitris Pelkas , Efthymis Koulouris and Stefanos Athanasiadis, and the former shot past goalkeeper Papadopoulos, but Anastasiadis cleared the ball before crossing the line. One minute later, Lamia's keeper denied Koulouris with a brilliant save. Just before half-time, Lamia went close, but Vouho's shot flew wide.
After the interval, the extensive substitutions and the players' fatigue due to high temperatures had their toll on the match quality. In the 65th minute, Limnios crossed for Pelkas whose header went wide. However it was Lamia who edged out a 1-0 victory with Tsoukalos's header from the six-yard box in the 87th minute.
Four more young players were introduced in the second half for the "Double-Headed Eagle":  Siampanis , Tzovaras, Gargalatzidis and Dimitriadis.
PAOK line-up:  Paschalakis  (58′  Siampanis ), Tsaousis, Dimitriou, Pouggouras, Konstantinidis, Kaçe, Chatzidimpas,  Limnios  (77′ Tzovaras),  Pelkas  (82′ Dimitriadis), Athanasiadis (72′ Gargalatzidis), Koulouris.