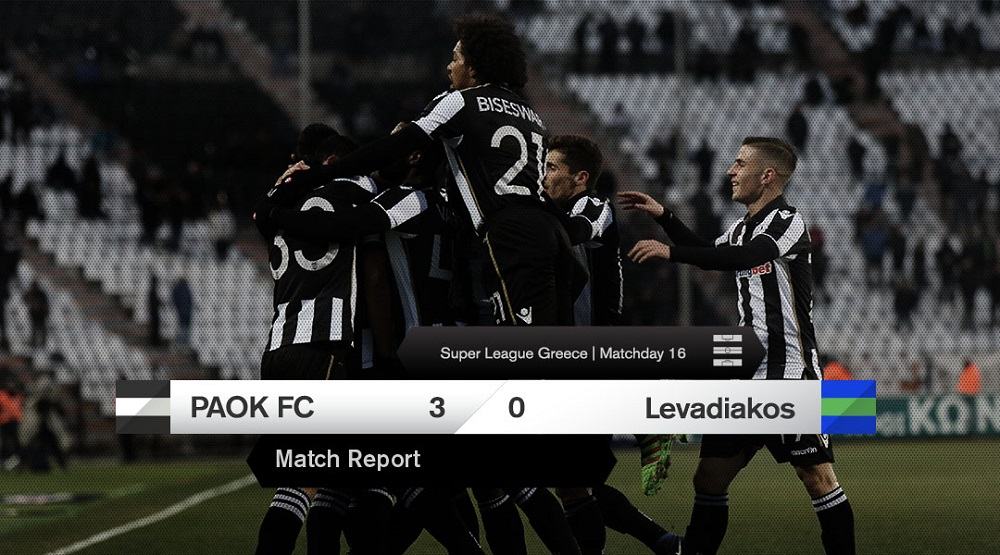 PAOK return to their winning ways
The "Two-Headed Eagle" prevailed 3-0 over Levadiakos for matchday 16 of the Super League.
The good old "Two-Headed Eagle" appeared again, combined essence and spectacular plays and converted their dominance to goals, securing an important victory and a higher place in the standings.
PAOK were determined from the start to take the reins of the game and create chances. They did so and Diego Biseswar went close in the 1st minute of the encounter, while Dimitris Pelkas's shot also flew wide in the 7th minute.
After a few more misplaced shots, Biseswar teed up Léo Matos with a perfect long-range cross. The Brazilian full-back was all alone in the right flank, controlled the ball impeccably with his chest and sent the ball at the back of the net with a volley in the 20th minute.
Three minutes later, Pelkas tried his luck with a side volleyed shot that went inches wide from the post. Namaşco acrobatically volleyed out Fernando Varela's header to save Levadiakos.
Just before the interval, PAOK squandered yet another opportunity to extend their lead. José Ángel Crespo headed the ball towards Djalma Campos, who fired wide from an angle.
The "Two-Headed Eagle" found themselves in numerical superiority, as Mendy was given his marching orders for a harsh, mistimed tackle on Campos.
Marin Leovac went close in the 44th minute with a direct free-kick, forcing an excellent save out of the visiting goalkeeper.
PAOK didn't take their foot off the throttle after returning on the pitch for the second half –and got their reward. A few minutes after coming from the bench, at the stroke of the hour, Facundo Pereyra found the net with a close-range volley after a fine combination between Campos and Biseswar.
The black-and-whites sealed their victory in the 76th minute. Pereyra got his brace, after collecting the rebound from Stefanos Athanasiadis's header and Namaşco's save, coolly dispatching it to make it 3-0.
Line-ups:
PAOK: Glykos, Matos, Varela, Crespo (72' Μalezas), Leovac, Cañas, Cimirot, Biseswar, Campos, Pelkas (57' Pereyra), Αthanasiadis (77' Μystakidis).
Levadiakos: Namaşco, Milhazes (63' Karachalios), Mendy, Ouon, Moulopoulos, Macheras, Coulibaly, Laçi (77' Kapsaskis), Giakoumakis, Vasiliou (68' Youssouf), Κaltsas.