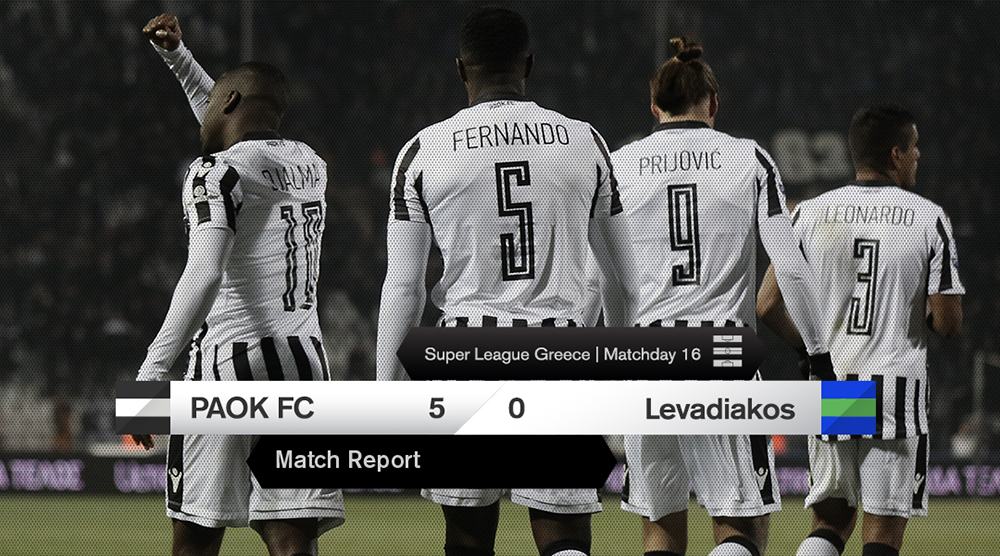 PAOK maintain their momentum
In a league to be decided in details, such victories not only hand points, but also boost PAOK's self-confidence.
The "Double-Headed Eagle" were very lively at the start of the encounter and managed to put the visitors under siege. However they were struggling to translate their dominance to clear-cut opportunities to score. They did manage though to score on the first chance they got. Dimitris Pelkas teed up Léo Matos in the far post and the latter, in one of his usual charges forward, volleyed the ball past Epassy and gave PAOK the lead.
Răzvan Lucescu's troops enjoyed a 80% ball possession, but it was Levadiakos who came close to equalizing at the end of the first half. Giakoumakis misfired his shot, in what was the Viotia outfit's only opportunity to score until the interval.
Everything changed when the two teams returned to the pitch for the second half. PAOK stormed out of the gates and finished off the encounter in 15 minutes. Djalma Campos made it 2-0 with an astonishing effort from outside the box in the 48th minute. Afterwards Aleksandar Prijović took the rebound after Epassy's weak save on a Dimitris Limnios's shot and scored from close range. Campos completed his brace in the 59th minute with a lobbed shot making it 4-0 for the home side.
In the last half hour of the match, the only question-mark regarded the extent of the final result. PAOK wasted a few good chances and Paschalakis made a spectacular save to deny Giakoumakis. In the 89th minute, Prijović earned a penalty and took the spot kick himself to seal PAOK's emphatic 5-0 victory.
Line-ups:
PΑΟΚ ( Răzvan Lucescu ): Paschalakis, Matos, Varela, Crespo, Vieirinha , Maurício, Cañas (46' Cimirot), Campos, Pelkas (77' Koulouris), Limnios (64' Biseswar ), Prijović.
Levadiakos (José Anigo): Epassy, Adilehou, Francisco, Leonardo, Zaradoukas (58' Belghazouani), Niasse (64' Mitropoulos), Obiora, Tsabouris, Youssouf, Markovski, Giakoumakis.