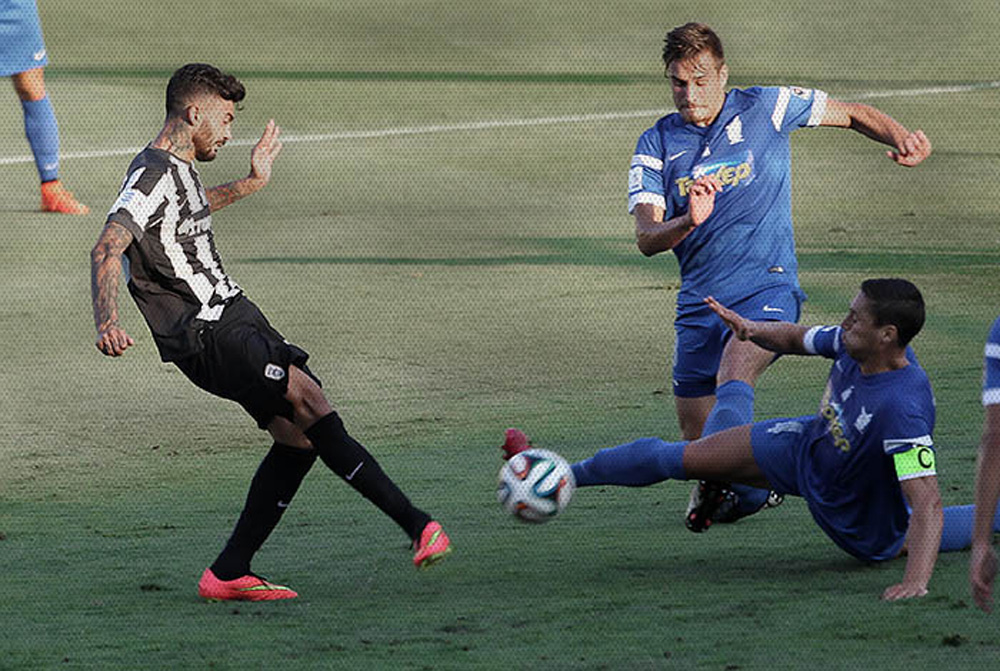 No matter how weak an opponent is or how intimidating Toumba can be for the rivals, a match behind closed doors is always tricky. PAOK however were demure, focused, creative and prevailed 3-0 over Niki Volos, in their last match in front of empty stands. Had our players been more accurate, they could have won by a larger margin…
After signing his new contract, Stefanos Athanasiadis was the one to break the deadlock. He missed two glorious chances to start with, but on the third time of asking he beat Tabakis in the 22nd minute, netting his 3rd goal in all competitions this season. Niki Volos were lucky not to concede more and went to the dressing rooms trailing by just one goal. They were tested by Klaus, Alexandros Tziolis, Róbert Mak and Dimitris Salpingidis time and time again in the first half, with close- or long-range shot, headers or tap ins…
After the interval, the troops of Angelos Anastasiadis hit the pitch with the sole purpose of finishing off the match. They had to do that however without Giorgos Tzavellas who pulled a groin muscle and was forced to retire. The team started strongly and doubled their lead in the 46th minute through Facundo Pereyra who was rewarded for his overall performance with this goal, teed-up by Giannis Skondras. The match was a one-sided affair, despite Niki Volos' timid efforts to create danger. Mak, who was eventually voted MVP of the match, was ever present and was given the nod to take the spot kick that Athanasiadis earned in the 80th minute. He converted it for the final 3-0.
The whole team was disciplined and followed Angelos Anastasiadis' instructions to the letter. Apart from Mak, Athanasiadis excelled playing mainly as second striker behind Facundo. Răzvan Raț, Pereyra and Skondras also stood out, the latter missing a great opportunity in the final stages of the match to score for a second consecutive encounter.
Line-ups:
PAOK (Angelos Anastasiadis): Glykos, Tzavellas (Katsikas 46′), Vítor, Skondras, Raț, Tziolis (Martens 76′), Kace, Salpingidis (Tzandaris 64′), Mak, Pereyra, Athanasiadis.
Niki Volos (Wiljan Vloet): Tabakis, Marinakis, Sotirakos (Machlelis 22′), Argyris, Ivens, Mece, Luyckx, Kotsaridis, Mouzakitis, Giannitsanis, Skourtis (Koreta 83′).