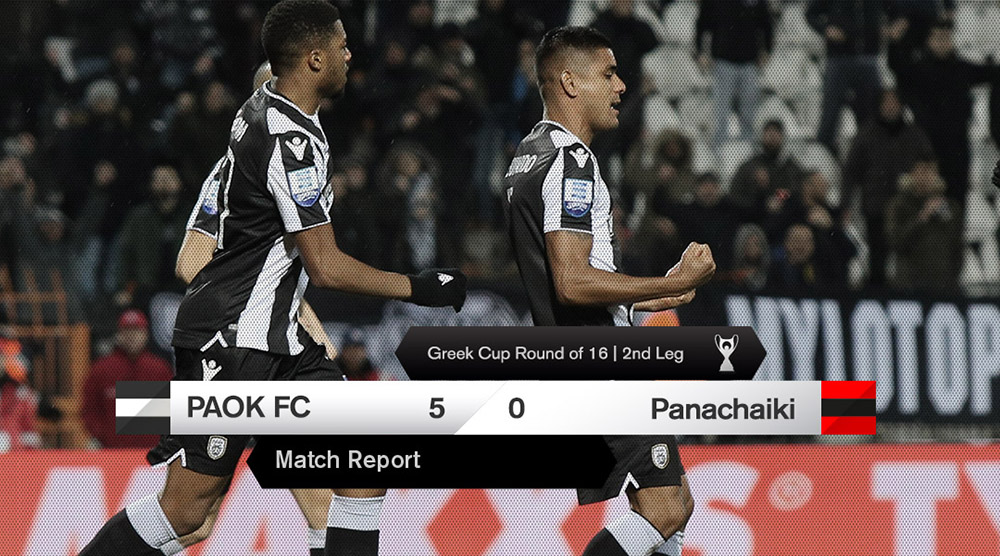 PAOK did their duty and are through to quarters
The first-leg defeat in Patras obligated PAOK to put on a demure performance in Toumba, determined to remedy their errors.
Răzvan Lucescu fielded an attacking line-up, as his troops were gunning for an early goal. They achieved just that, taking the lead in the 5th minute.
Diego Biseswar took the corner kick and Léo Matos poked the ball home, upon his return to the starting line-up after his suspension.
The visitors couldn't find any space to attack and retreated their lines. PAOK lost a host of chances, before scoring their second goal. Chuba Akpom won his duels, let the ball to Léo Jabá who made it 2-0 with an impeccable control and flawless finish.
Just 33 seconds into the second half, the "Double-Headed Eagle" extended their lead further. Jabá set Dimitris Limnios up and the latter beat Kapoutaglis with a close tap-in.
Scorer turned to provider and vice versa in the 57th minute, Limnios serving an assist to Jabá for PAOK's fourth goal. Josip Mišić put the icing on the cake in the 67th minute. The Croatian midfielder accompanied his "Double-Headed Eagle" debut with a beautiful goal to seal the home side's 5-0 win.
By then it was raining hard, hindering the players on the pitch. PAOK celebrated their passage to the Greek Cup quarter-finals, well on their way to defend their trophy.
Line-ups:
PΑΟΚ: Paschalakis , Vieirinha (68' Lyratzis ), Crespo , Varela , Matos , Shakhov , El Kaddouri (74' Karelis), Biseswar (58' Mišić), Limnios , Jabá , Akpom .
Panachaiki: Κapoutaglis, Polimos, Stamopoulos, Τselepidis, Sotirakos, Papatolios (58' Mystakopoulos), Εleftheriadis (53' Μavrias), Plegas, Αrgyropoulos, Κynigopoulos, Bastakos (75' Masouras).