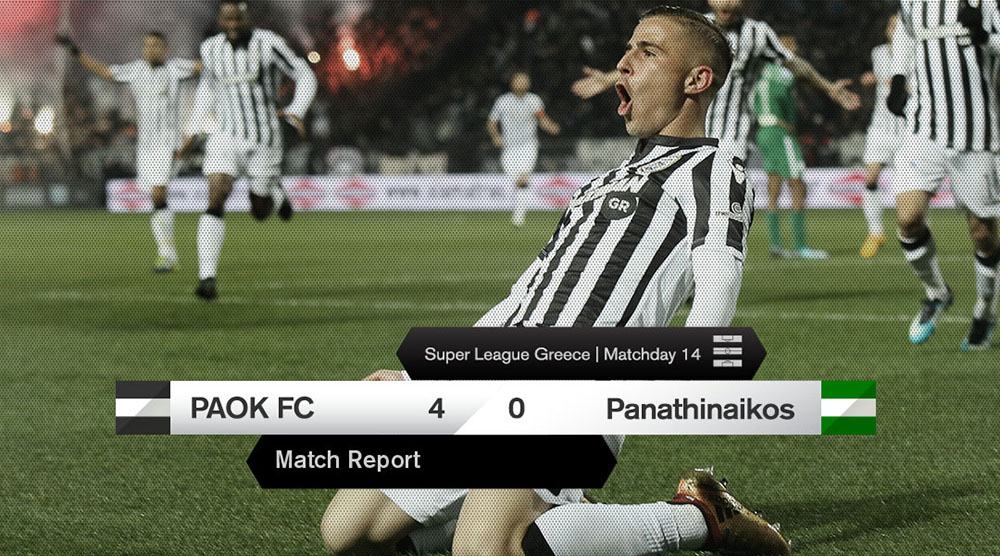 PAOK recorded their 4-0 victory in the most comfortable, irreversible, matter-of-fact way, as Răzvan Lucescu's troops were clear-minded, effective and patient until the last second of their triumph.
The "Double-Headed Eagle" respected their opponents despite their problems and put four goals past them, crowning a performance of the highest level. Dimitris Pelkas was the first one on target, scoring the opener with a magnificent drive at the top of the net in the 8th minute. He completed his brace in the 51st minute with a breathtaking, playstation-like move!
Efthymis Koulouris extended PAOK's lead from the spot and Aleksandar Prijović came off the bench to score a beautiful goal from the box and seal his side's triumph.
Line-ups:
PΑΟΚ ( Lucescu ): Paschalakis , Matos , Varela , Malezas , Crespo , Cañas 58' Cimirot), Maurício , Limnios (82' Campos), Pelkas , Mak, Koulouris (73' Prijović ).
Panathinaikos (Ouzounidis): Dioudis, Koutroumpis, Moledo, Insua, Johansson (46' Hiljemark), Kolovetsios, Kourbelis, Cabezas, Lod, Villafáñez (85' Donis), Altman (68' Hult)