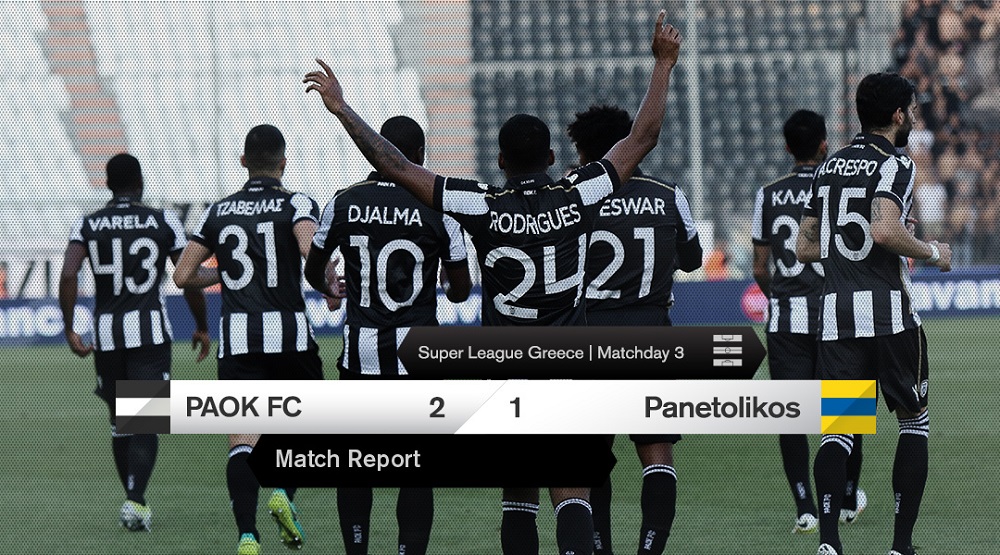 PAOK kicked off their Super League campaign with a 2-1 victory over Panetolikos, accompanied by a mouthwatering display. These three points cancel out the deduction handed to them for their last season's revolt that signaled the fall of EPO's malfunctioning system.
The final score doesn't reflect the overwhelming dominance of Vladan Ivić's troops, who kicked off the match determined to win. They scored the opener in the 1st minute of the encounter, following a fine combination between Stefanos Athanasiadis and Djalma Campos. The latter crossed for Diego Biseswar to score from inside the box.
The goal only increased PAOK's attacking pace and Kyriakidis's goal was constantly under threat. Garry Rodrigues (3'), Léo Matos (11'), Athanasiadis (13'), José Ángel Crespo (19'), Matos again (24'), all came close to increasing PAOK's lead. In the 26th minute, the "Double-Headed Eagle" managed to score their second with Rodrigues, who had only to tap the ball in after Klaus's back-heeled assist. Until the end of the first half, PAOK would miss more opportunities, the best of them being Klaus's header denied by the crossbar.
The complexion of the encounter didn't change after the interval. PAOK prevailed and created several chances, but didn't find the back of the net. Biseswar missed two clear-cut opportunities, Facundo Pereyra failed to score with the goal at his mercy and then had a shot on woodwork. Panetolikos only managed to reduce distances in stoppage time, taking advantage of a blunder by Fernando Varela, but couldn't do more in this game.
PAOK kicked off the league with a victory, signaling the end of Greek football's gloomy past, while wiping out the point deduction handed to them by Giorgos Girtzikis's Greek Federation…
Line-ups:
PΑΟΚ: Glykos, Tzavellas, Crespo, Varela, Matos, Cañas, Cimirot (83' Pelkas), Biseswar (67' Shakhov), Campos, Rodrigues, Athanasiadis (67' Pereyra).
Panetolikos: Kyriakidis, Τsokanis, Κousas, Chantakias, Mygas (Μουνιός 78), Μάκος, Paulo, Warda, Ferreyra (46' Ledesma), Tomané, Markovski (60' Clésio).