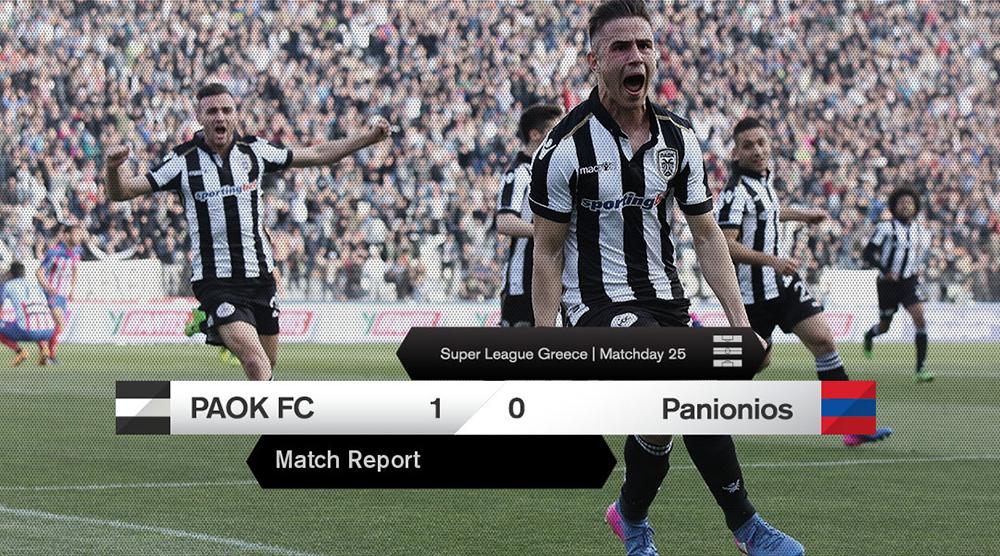 In the very last minute of stoppage time, PAOK scored their buzzer beater and recorded a very important 1-0 victory over Panionios for matchday 25 of Super League.
Super sub Dimitris Pelkas scored the winner over Panionios, allowing PAOK to reduce distances with the Nea Smyrni outfit as both sides look ahead to the play-offs.
PAOK started strongly into the match and carved out their first opportunity in the 4th minute with Pedro Henrique's header flying just over the crossbar. Two minutes later, they came close again with another header by Yevhen Shakhov.
The encounter got to a lively pace with PAOK in control, aiming for an early goal. As the match unfolded, they dominated possession, trying to break through Panionios's defence, but to no avail.
However it was at the other end of the pitch that Panagiotis Glykos needed to intervene and save Yeşil's close-range shot in the 32nd minute. Meanwhile a low shot by Pedro Henrique grazed Gianniotis's post. Shakhov's overhead scissor kick also went wide in the 37th minute.
As the "Double-Headed Eagle" applied more pressure, Henrique went close once again, but his side shot went just past the post.
After the interval, PAOK remained in command and almost got the goal they wanted when Diego Biseswar hit the woodwork in the 48th minute. A little later Panionios's defence cleared Henrique's dangerous cross just before PAOK players got to it.
In the 77th minute, Panionios were reduced to ten players, after Ikonomou's harsh foul on Giannis Mystakidis, his second bookable offence of the afternoon.
The shots of Biseswar (82') and Shakhov (86') went wide, as did a very dangerous header by the Ukrainian midfielder in the 90th minute.
Everything pointed towards a goalless draw. But Pelkas came out like deus ex machine to seal PAOK's victory in the very last minute of stoppage time!
Line-ups:
PΑΟΚ: Glykos, Matos, Crespo, Varela, Leovac, Cimirot, Cañas (80' Pelkas), Shakhov, Henrique (84' Koulouris), Biseswar, Αthanasiadis (75'Μystakidis).
Panionios: Gianniotis, Τasoulis, Ikonomou, Guiohata, Vlachos, Korbos, Siopis, Ben, Masoud, Masouras (75' Tapoko), Yeşil (86' Savvidis).