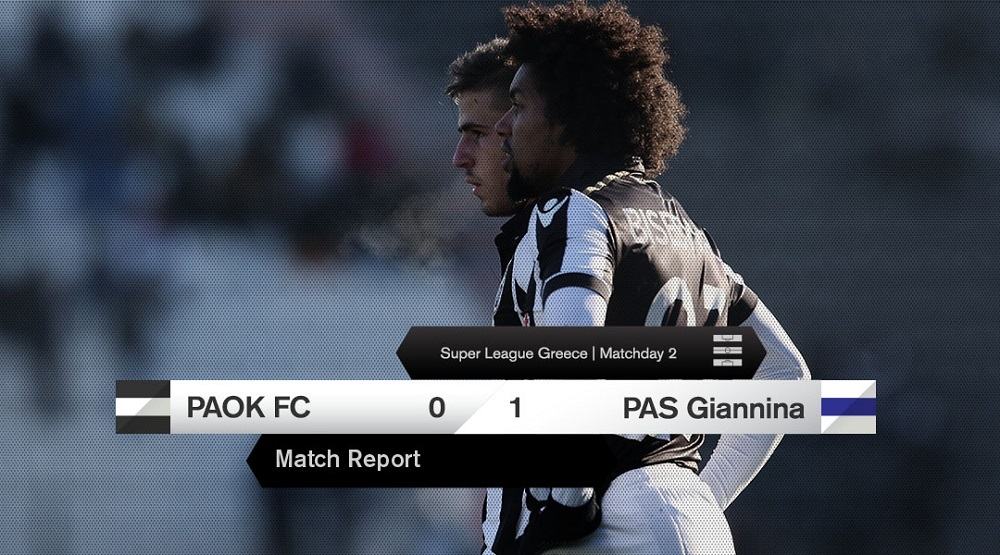 After such matches, one doesn't know how to react… The coolest way of looking at things is to accept that the rival goalkeeper just was unbeatable on the day. Paschalakis was the MVP of the encounter, as he kept PAOK at bay despite the home side carving out 28 atttempts to score, 17 of them on target. The "Two-Headed Eagle" lost 1-0 and wasted the opportunity to climb up the standings.
PAOK´s winning streak stopped in Toumba Stadium, where they got to pay for their failure to convert the host of chances they created in front of PAS Giannina goal.
PAOK flew to a strong start and squandered a huge double opportunity with just two minutes into the game. Léo Matos crossed from the right, but Efthymis Koulouris couldn't beat Paschalakis despite trying twice from the six-yard box.
A fine combination of the black-and-whites provided Gojko Cimirot with time and space to shoot from the edge of the area, but the visiting goalkeeper once again got to the ball with a double effort.
Against the run of play, PAS Giannina took the lead in the 17th minute, with an angled shot by Tzimopoulos following a corner –the first goal conceded by PAOK after 330 minutes of play!
However the "Two-Headed Eagle" kept going and, in the 19th minute, they wasted another huge chance to score. Djalma Campos took the rebound following a blocked shot by Dimitris Pelkas, but was unable to beat the keeper.
PAOK kept on attacking, but were failing to find a way past excellent Paschalakis. In the 26th minute, the latter got across to fingertip the ball and prevent Pelkas's direct free kick from going in. The young attacking midfielder was denied five minutes later as well, as Giannina goalkeeper was at full stretch to block his volley.
In the 37th minute, it became evident that it wasn't going to be PAOK's afternoon. Campos received Pelkas's cross in the box and, despite falling down, he controlled the ball but couldn't fire it home.
After the interval, Pelkas squandered two gilt-edged opportunities to equalize for PAOK (49', 50'), firing the first one just wide and forcing a save out of Paschalakis for the second.
The home side's territorial superiority was overwhelming, but they just couldn't get on the scoreboard. In the 75th minute, Pelkas met Leovac's cross with a header, but the ball flew narrowly wide.
Diego Biseswar's shot in the 84th was volleyed out acrobatically by Paschalakis for a corner, while the upright was to blame for stopping Stefanos Athanasiadis's shot three minutes later.
Line-ups:
PΑΟΚ: Glykos, Matos, Crespo, Varela, Leovac, Cañas, Cimirot (67' Mystakidis), Biseswar, Campos, Pelkas (86' Pereyra), Koulouris (61' Athanasiadis).
PAS Giannina: Paschalakis, Μichail, Τzimopoulos, Skondras, Nadales, Lila (28' Garoufalias, 76' Maboulou), Kozoronis, Karanikas, Koutris, Giakos (89' Boukouvalas), Acosta.