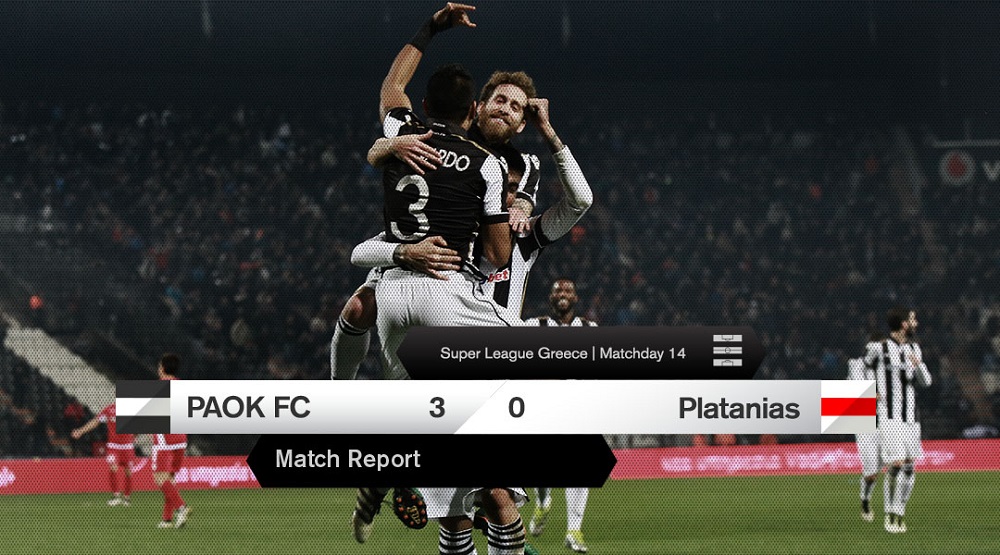 Fresh from their European success, PAOK recorded a valuable, morale-boosting 3-0 victory over Platanias for matchday 14 of the Super League.
The "Two-Headed Eagle" picked up where they left off. After their excellent display against FC Slovan Liberec, they returned to their winning ways on the domestic front and aced their last match in Toumba Stadium for 2016, with in-form Léo Matos stealing the show.
In the first 20 minutes, PAOK played recon football, gradually intensifying their pressure in Platanias's box. Djalma Campos wasted a perfect opportunity to give PAOK the lead in the 18th minute. He broke free from behind the rival defence, but mistimed his control and his shot was too weak and too easy for Sotiriou to handle.
Platanias's goalkeeper also intervened to save Efthymis Koulouris's shot in the 22nd minute and a long drive by Garry Rodrigues from the left in the 42nd minute.
PAOK couldn't capitalize on their overwhelming domination during an entertaining first half. But everything changed in the 61st minute. Rodrigues took the free kick and Matos headed the ball enough to sent it to the back of the net for the opener.
Ten minutes after coming off the bench, Stefanos Athanasiadis missed a huge chance to extend PAOK's lead, but Vanderson got to the ball first and forced a corner kick. One minute later, Fernando Varela also came close, but his header flew just wide off the left post.
Matos confirmed that he is on a roll in the 81st minute, when he doubled PAOK's lead with a fine individual move and a neat close-range finish. An own-goal by Banana three minutes from time extended the scoreline and reversed the "Two-Headed Eagle's" trend of unfortunate results after European success.
Line-ups:
PΑΟΚ: Glykos, Μatos (89' Κitsiou), Crespo, Varela, Leovac, Cañas, Cimirot (74' Shakhov), Biseswar, Campos, Rodrigues, Κoulouris (57' Αthanasiadis).
Platanias: Sotiriou, Kargas (66' Dinas), Banana, Karypidis, Scardovelli, Gnjatić, Munafo, Stathis, Goundoulakis (82' Mendrinos), Manousos, Apostolopoulos (73' Dilaver).