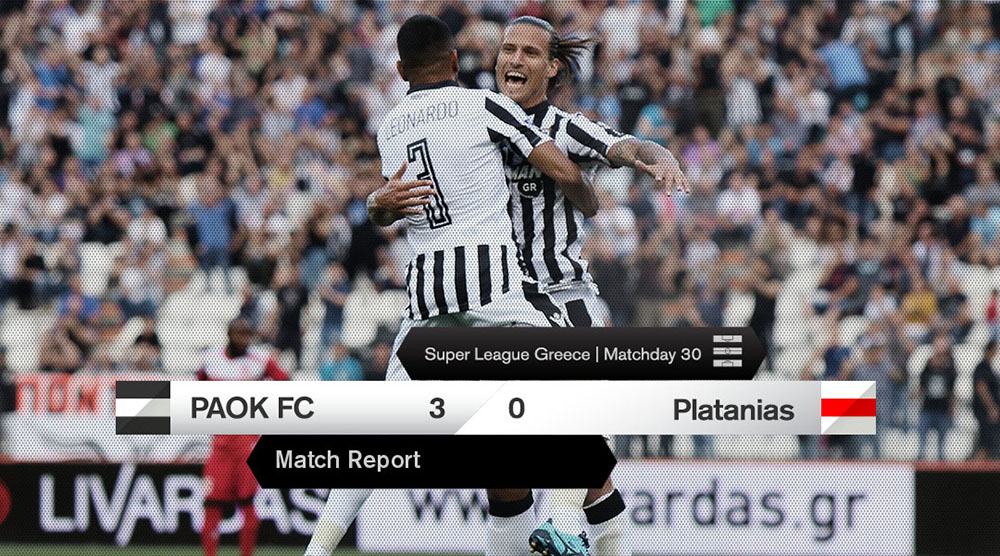 Platanias are their latest victim, losing 3-0 without being able to resist. Răzvan Lucescu's troops fired on all cylinders right from the start, staged a siege in Platanias's box and scored twice in the first 15 minutes, to secure the three-pointer.
Léo Matos went after a lost ball in the 9th minute and his header turned to assist for Dimitris Pelkas , who fired a perfect volley for the opener. Six minutes later, it was Aleksandar Prijović's turn to score, also on an assist by Matos. The Brazilian full-back set up the Serbian forward for the simplest of finishes, to put the match past the visitors.
There was only one question in the remaining 75 minutes: the extent of the scoreline. The "Double-Headed Eagle" squandered many opportunities to score. As for Alexandros Paschalakis , he was called to intervene just once in the game, and did so with aplomb, beating the rival forward in a one-on-one.
PAOK sealed their 3-0 victory deep into stoppage time. Adelino Vieirinha launched a pinpoint cross and Prijović netted his 19th goal of the league with a header. He leads the scoring charts, while Karim Ansarifard –trailing by two goals– plays on Sunday.
After the final whistle, the on-the-pitch champions were acclaimed and applauded by the Toumba faithful, for overcoming all the hardships and getting a tally of 70 points on the ground and with a match in hand.
Line-ups:
PΑΟΚ: Paschalakis , Matos , Varela , Mihojević, Vieirinha , Maurício , Shakhov (75' Limnios ), Pelkas (49' El Kaddouri ), Mak (63' Campos), Biseswar , Prijović .
Platanias: Kljajić, Vanderson, Karypidis, Dikamona, Oues, Doualla, Malsa, Ziko, N'Sikulu (68' Singh), Kasalica (84' Fouflia), Udoji.