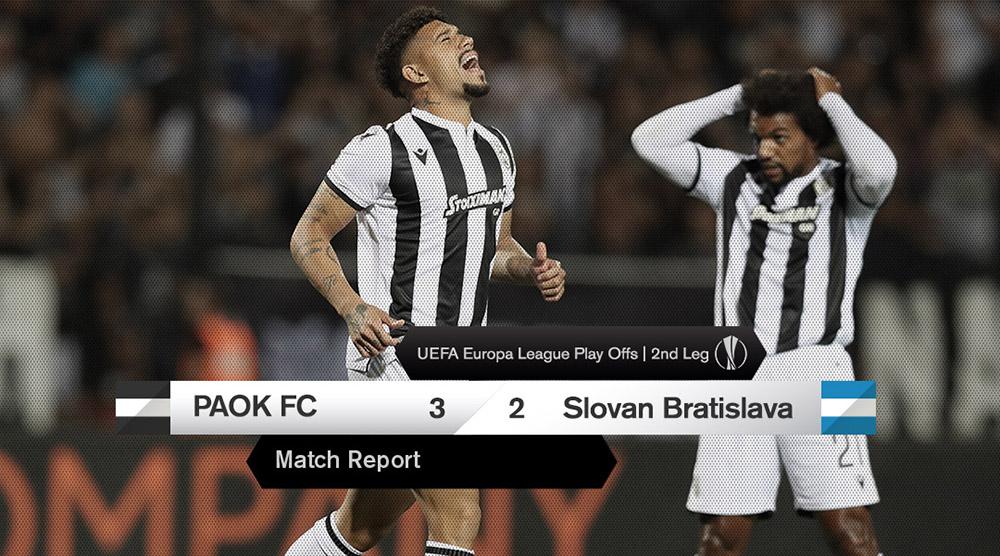 A bad night and tough exit
There are some nights when nothing seems to go right. No matter what you try to do, or how hard you try, your opponent manages to find a solution to come out on top. This is exactly what those inside the Toumba Stadium witnessed on Thursday, as Slovan Bratislava celebrated a historic European qualification.
PAOK pressed as much as it could. PAOK created 30 efforts on goal and controlled 73% of the possession. PAOK scored three goals. Still, none of that was enough to reach the Europa League.
The final 3-2 scoreline left PAOK out of European football this season, with the Slovakians scoring two precious away goals which helped them claim a place in the group stage.
The Double-headed Eagle of the North fell behind to Jurij Medvedev's spectacular long-distance effort, but PAOK were able to respond immediately at the start of the second half with two goals in two minutes. However, Slovan grabbed another goal to make it 2-2 which made things even more difficult w PAOK.
Abel Ferreira's team did not give up, however, and after dominating play in the second half and laying siege to the Slovakians' goal, Dimitrid Giannoulis made it 3-2 in the 87th minute but it still wasn't enough.
PAOK were also hit by some misfortune, having lost Mohammed El Qadouri early on in the game to injury. Not only that, but the hosts also played the last quarter of an hour virtually with a player less after Douglas Augusto struggled on with a rib injury after following a collision with a post in an incident where the referee failed to award a clear penalty to PAOK.
PAOK is now turning its attention to the upcoming match against Panionios in the Super League, where the focus will be firmly on how the team can maintain its winning from on the domestic front.
Team lineups:
PAOK (Abel Ferreira): Paschalakis, Rodrigo, Varela, Crespo, Giannoulis, Esiti (64΄Misic), El Kaddourii (31 'Douglas), Limnios, Biseswar, Pelkas (46' Swiderski).
Slovan Bratislava (Jan Kozak): Greif, De Gamps, Mocha, Sporar, Ibrahim (68 'Nono), Abena, Medvedev, Holman (88' Ratao), Bozinkov, Bairic (78 'Sukotki)