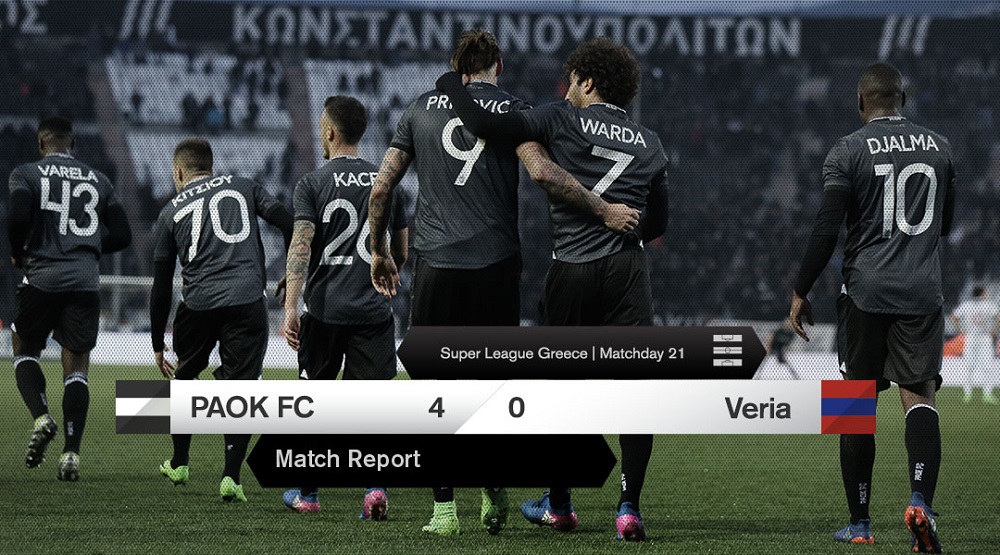 Mouthwatering display signed by newcomers
PAOK returned to their winning ways, thrashing Veria 4-0 for matchday 21 of the Super League.
The "Double-Headed Eagle" sailed to a comfortable victory and added three more points to their tally.
For yet another game, PAOK started strongly, launching numerous attacks on the visitors' goal, while Veria were determined to play as well and not just defend. Pedro Henrique (6') and Amr Warda (15') fired over the crossbar.
The lively Brazilian got his reward in the 17th minute, through sheer persistence. He followed play, taking advantage of Sissoko's failed pass, escaped López and gave PAOK the lead!
One minute later, Djalma Campos dribbled his way into the box, but his powerful shot was touched wide by the visiting goalkeeper.
PAOK were seeing much more of the ball and in the 41st minute they pressed home their advantage. Henrique was brought down in the box by Vasilantonopoulos and was awarded a penalty, coolly converted by Aleksandar Prijović.
After the interval, the "Double-Headed Eagle" extended their lead further with their newly-signed forward. Warda swung in a corner in the 50th minute and Prijović headed home from the near post.
PAOK's dominination was sealed in the 72nd minute with a perfect lob by substitute Dimitris Pelkas following Warda's second assist of the evening. As for Prijović's fine strike in the 89th minute, it flew just past the left post of Veria.
Line-ups:
PΑΟΚ: Glykos (63' Siampanis), Matos, Malezas (54' Pouggouras), Varela, Kitsiou, Shakhov, Kaçe, Warda, Campos (70′ Pelkas), Henrique, Prijović.
Veria: Jonathan López, Asigba, Andonian, Sissoko, Vasilantonopoulos, Tomás (58' Belaïd), Balafas, Stojčev (77' Linardos), Arce (67' Miljević), Sarpong, Kapetanos.