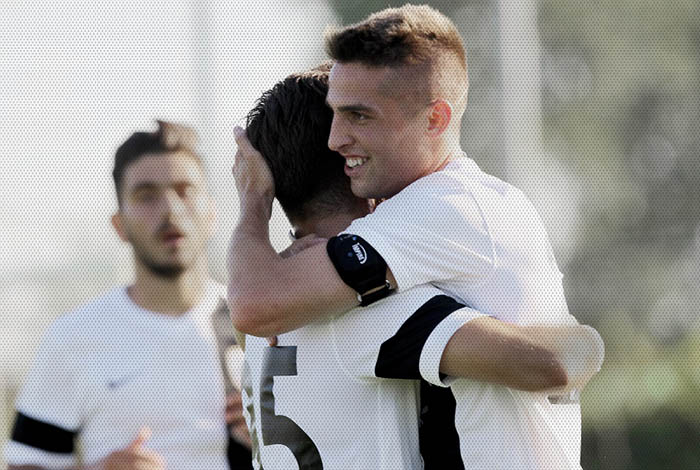 First victory of the season
In their fourth friendly encounter in the Netherlands, PAOK recorded their first (unofficial) preseason victory, defeating RKC Waalwijk 2-1.
As preseason training advances, the players find their footing and become more cohesive as a team. It's also expected for the squad not to maintain the same rhythm in their games, as the coach makes many substitutions. However on Wednesday the "Double-Headed Eagle" players were creative and not really threatened by their Dutch rivals.
The focus was on the debut of Róbert Mak who was fielded in the initial line-up and gave evidence of his quality from minute one, with his movement without the ball, his choices when in control and his fitness levels. He also scored in the 14th minute following an inch-perfect through-ball by Popovic. The Dutch leveled with a rigid penalty "invented" by the referee in the dying minutes of the first half. PAOK had wasted 3-4 opportunities to extend their lead earlier .
After the interval, PAOK were in total control and camped in Waalwijk's half. They didn't produce as many chances to score, but had more possession. After a fine combination of the "Double-Headed Eagle", Tzandaris teed up Pozoglou with the goal at his mercy and the latter didn't miss his opportunity for the winner. On Saturday, PAOK will face SC Cambuur for their last friendly encounter on Dutch soil.
Line-ups:
PAOK 1st half: Melissas, Kosntantinidis, Maduro, Qose, Spyropoulos, Panagiotoudis, Golasa, Mak, Savvidis, Popovic, Koulouris
PAOK 2nd half: Giakoumis, Skondras, Katsikas, Pozatzidis, Kitsiou, Martens, Kace, Tzandaris, Polyzos, Pozoglou, Papadopoulos
RKC Waalwijk: Van Dijk, Martina, Van Mosselveld, Coster, Jungschläger, Waalpurt, Calabro, Braber, Zeldenrust, Verkelem, Duits