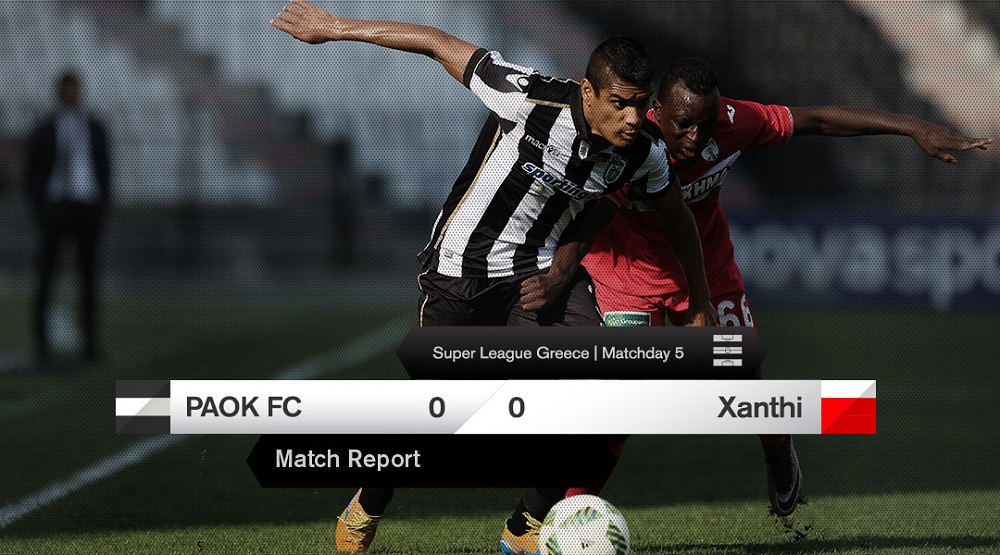 PAOK realized way early that it was one of these luckless matches. The "Double-Headed Eagle" were the only team trying to create chances, score and dictate pace in the match, but their encounter against Xanthi ended goalless.
Xanthi defended in numbers and were determined to reduce the pace and buy themselves time. The game started well for PAOK who camped around their rivals' box, looking patiently for the opener. They came close through Garry Rodrigues in the 8th minute and, one minute later, Efthymis Koulouris missed a head-to-head.
The Thrace outfit were content to defending the own third and invested on abundant fouls and physical game. The first half went by without many chances, but after the interval the complexion of the encounter changed.
The introduction of Dimitris Pelkas didn't mean any formation change but boosted the team. He teed up Rodrigues in the 49th minute with an excellent effort, but the Cape Verde winger's shot from inside the area just went wide, much to the disappointment of the impatient Toumba crowd.
In the 83rd minute, it was Stefanos Athanasiadis who provided the pass, but Rodrigues once again missed from close range, failing to beat Živković. Rodrigues was the image of PAOK's bad luck, as he missed another glorious opportunity in stoppage time, losing his balance in front of Xanthi's vacant goal.
Xanthi threatened just once in the whole match, in the 61st minute and they were reduced to 10 in the 73rd minute with Lazić getting sent off deservedly. Referee Vatsios denied PAOK's legitimate claims for a penalty ten minutes from time, for a clear handfoul – a decision that sparked discontent among the home players.
Dropping these two points put an end to PAOK's victorious start in the league. But it's important that Vladan Ivić's side did come up with their quota of 5-6 opportunities, usually needed to finish off encounters against teams who just want to avoid defeat.
Line-ups:
PΑΟΚ: Glykos, Matos, Crespo, Tzavellas, Leovac, Cimirot (79' Thiam), Cañas, Biseswar (46' Pelkas), Rodrigues, Koulouris (59' Athanasiadis), Campos.
Xanthi: Živković, Wallace (81' L.Orfanidis), Fliskas, Lisgaras, Chatziterzoglou, Camara, De Lucas, Nieto (93' Ranos), Lazić, Soltani, Younés (84' Vasilakakis).