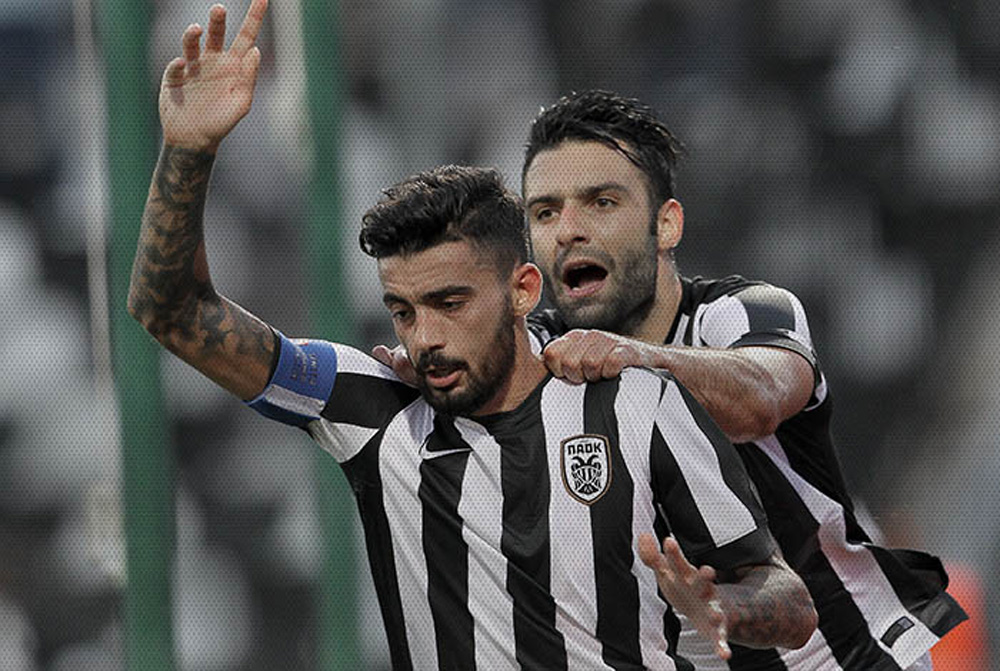 The unexpected loss to an inferior, yet feisty, team last week hurt the pride of PAOK players and proved enough to boost them to victory and qualification to the UEFA Europa League group stage. Angelos Anastasiadis' troops thrashed Zimbru Chișinău 4-0 in Toumba guaranteeing in emphatic fashion that their European adventure this season will definitely go on…
PAOK can only be undone by their own stress and errors. Yet none of that was in evidence on Thursday evening. Pressuring from the word 'go', composed and determined to camp in Zimbru's half, the "Double-Headed Eagle" broke the deadlock early on. Stefanos Athanasiadis served a delighted overhead assist to Facundo Pereyra, the ingenious Argentine proving he has excellent positioning. He scored the opener, canceling out the first-tie defeat.
The positive vibes of the fans were contagious and the players continued pressuring their rivals. Jean-Marie Amani was given his marching orders in minute 42, as he held the referee by the shoulder in order to complain! PAOK made the most of their numeric superiority. Experienced Răzvan Raț fought for a ball seemingly lost, crossed it right where Klaus likes it and the latter fired home for a 2-0 lead before the interval!
Having secured qualification and against 10 players, time was an ally in PAOK's efforts. After returning from the dressing rooms, they let their rivals chase after the ball and hit at the perfect time. Róbert Mak made it 3-0 with a shot from inside the box on a headed assist by Facundo. However PAOK left the best for last with a delicious goal by Maarten Martens, after a slalom between Zimbru's backline followed by a shot at the top left corner of Rusu's goal.
It was a performance that brought a smile to the 15.000 faithful who attended the match, a result that cancelled the hick-up at Chișinău.
Line-ups:
PAOK: Glykos, Skondras, Tzavellas, Kitsiou, Răzvan Raț, Maduro (Kace 52′), Tziolis, Salpingidis (Martens 62′), Mak (Pozoglou 83′), Pereyra, Athanasiadis.
Zimbru Chișinău: Rusu, Burghiu, Erhan, Dedov, Klimovich, Pavlyuchek, Amani, Vremea, Grosu (46' Alexeev), Cheptine (Višņakovs 46′), Jardan (Spătaru 79′)