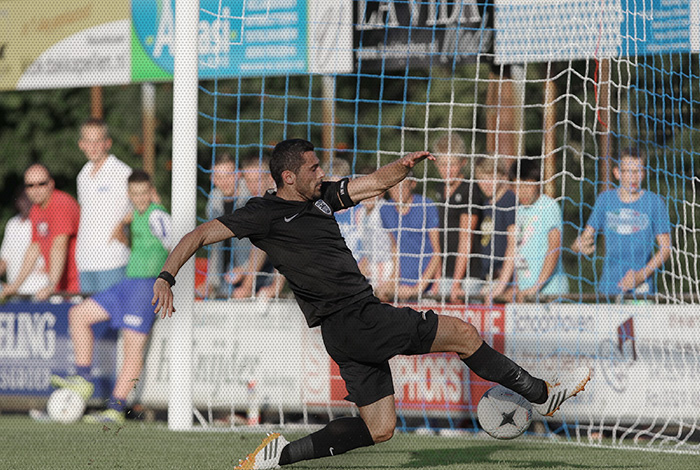 Still looking for rhythm and chemistry
PAOK lost 2-1 to PEC Zwolle in their third friendly encounter on Dutch soil, displaying some improvements but also showcasing the same weak points. Head coach Angelos Anastasiadis fielded a different line-up in each half. In the first half, he went for the most experienced men of his squad and after the interval he fielded U20 players along with Maduro and Raț.
In the first half, PAOK went for combinations, but couldn't avoid individual errors that provided the Dutch side with opportunities to beat Asterios Giakoumis. However it's obvious that the team is becoming more cohesive by the day. Just before half-time, Nikos Spyropoulos gave PAOK the lead teed up by Maarten Martens.
In the second half, rhythm dropped, but PAOK players kept up the effort. Zwolle turned the tie around in a space of few minutes, thanks to two set pieces. Pereira leveled with a header and Drost made it 2-1 collecting and dispatching the ball from a rebound, after a shot on woodwork by Nijland. Afterwards Pozoglou wasted a great chance to restore parity when he shot wide while completely unmarked in the box. No more opportunities were created in the final stretch of the match, as the heat and the substitutions took their toll on the match rhythm.
The line-ups:
PAOK 1st half: Giakoumis, Konstantinidis, Vítor, Katsikas, Spyropoulos, Kace, Savvidis, Martens, Golasa, Athanasiadis, Koulouris
PAOK 2nd half: Melissas, Qose, Maduro, Pozatzidis, Polyzos, Panagiotoudis, Raț, Tzandaris, Pozoglou, Popovic, Papadopoulos.
PEC Zwolle: Boer, Van Polen, Pereira, Sainsbury, Van Hintum, Mokotjo, Rienstra, Saymak, Drost, Thomas, Ioannidis.