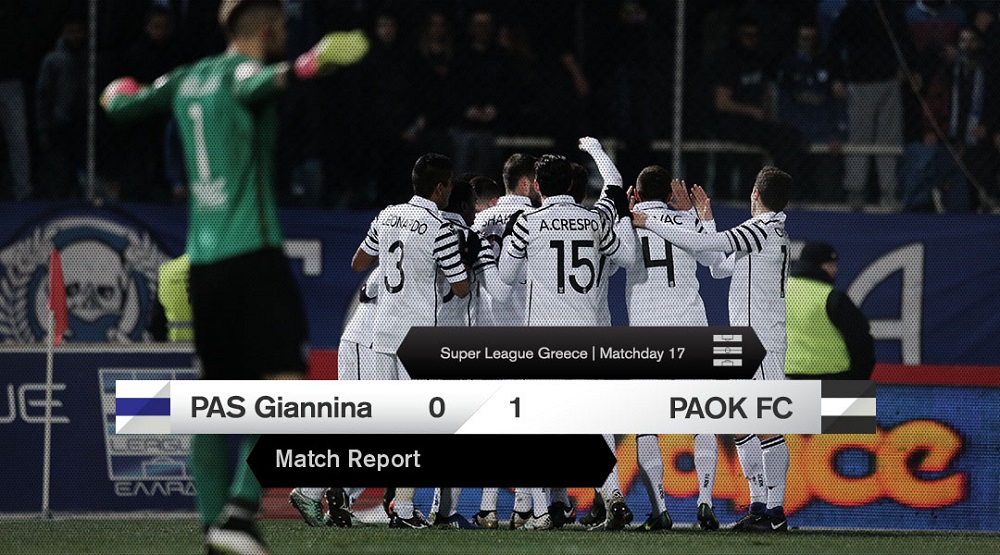 The "Two-Headed Eagle" continued their climb up the standings, with a 1-0 win away at Giannina for matchday 17 of the Super League.
On an unplayable pitch that made it very difficult for both sides to perform, PAOK were able to stamp their authority and edge out a very important three-pointer at PAS Giannina.
Getting the initiative from minute one, PAOK went close to getting the opener in the 18th minute with a cross by Μystakidis, that Paschalakis punched away.
In their effort to impose their creative game, PAOK were faced with an additional rival, the numerous mud holes on the pitch. However they managed to have more than 60% ball possession.
The deadlock was broken in the 31st minute with a close-range shot by Leovac who collected the rebound after Paschalakis saved Athanasiadis's header.
Maboulou forced an excellent save out of Glykos in the 39th minute and, three minutes later, Athanasiadis misplaced his header.
PAOK continued in command after the interval, carving out two opportunities to extend their lead through Mystakidis. His shot was pushed away by Paschalakis, who then denied the young winger's header in the 49th minute.
The "Two-Headed Eagle" kept pressuring the home side, but the shots of Cimirot and Campos both flew wide (54' and 55' respectively). The match became more physical afterwards with chances becoming scarce. In the last stretch of the encounter, the "black-and-whites" went close to scoring a second goal, with a back-heeled shot by Shakhov following a corner kick by Campos in the 85th minute.
The final whistle found PAOK players celebrating a very important victory that allowed them to climb further up the standings and overtaking their Monday rival.
Line-ups:
PAS Giannina: Paschalakis, Michail, Tzimopoulos, Maboulou (78' Berios), Giakos (90' Conde), Karanikas (70' Vidal), Lila, Koutris, Kozoronis, Acosta, Skondras.
PΑΟΚ: Glykos, Malezas, Crespo, Varela, Μatos, Leovac, Cimirot (94' Cañas), Shakhov, Campos (89' Κoulouris), Μystakidis (70' Charisis), Αthanasiadis.