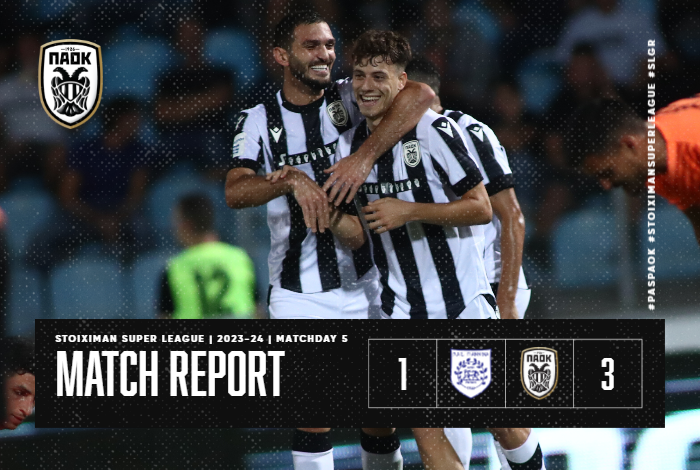 Return to winning ways in the league
In a tough match against a physical and good opposition side in PAS Ioannina, Razvan Lucescu's PAOK showed their mettle to defeat their hosts 3-1, leaving Epirus with all three points.
Just three days after a demanding European game, PAOK managed to return to winning ways in the league as well.
The extensive rotation of players by the coach did not affect the team at any point, with the visitors dominating and claiming the victory at a ground where it is never easy to get a result.
The game started perfectly for the Double-headed Eagle, when Brandon's prodded effort took a deflection of Kleiman, allowing Konstantelias to take advantage and slot the ball home comfortably to make it 1-0 to PAOK in the fourth minute. The visitors had some good further chances during the first 20 minutes, but they could not find a second goal.
As expected PAS Ioannina responded, and Pamlidis headed in beyond Kotarski from Soria's corner in the 25th minute to make it 1-1.
Despite the match going back to level terms, the Double-headed Eagle players remained focused on their task and in the 33rd minute they went on the counter-attack. Brandon passed to Konstantelias, and he restored PAOK's advantage, amking it 2-1 with an exemplary finish.
In the second half, the tempo of the game dropped, PAS pressed during the first 10 minutes after the restart but PAOK managed to bring the game under their control, keeping hold of possession while also looking for another goal to kill the game off. And that goal almost came in the 63rd minute, when Konstantelias should have scored a hat-trick. The Greek wing wizard brought the ball forward with a silky touch, but PAS defender Erramuspe managed to recover and send the ball out for a corner with a last-ditch tackle.
In tge 77th minute the third goal did finally arrive, however, when Lucescu's substitutions worked perfectly. Samatta released A.Zivkovic , and the Serb produced an impressive shot which beat Kleiman and went in off the post to wrap up the three points and ensure PAOK got back to winning form on the domestic front.
Team lineups:
PAS Ioannina: Kleiman, Soria, Erramuspe, Pantelakis, Kiakos, Liassos, Gino (Bilbao 82′), Garo (Lolis 74′), Rosero, Pamlidis, Balan (Conte 62′).
PAOK: Kotarski, Vieirinia (Sastre 75′), Kedziora (Koulierakis 61′), Nasberg, Rafa Soares, Ozdoev, Meite (Schwab 58′), Despodov (A.Zivkovic 58′), Taison, Konstantelias, Brandon (Samatta 75′).