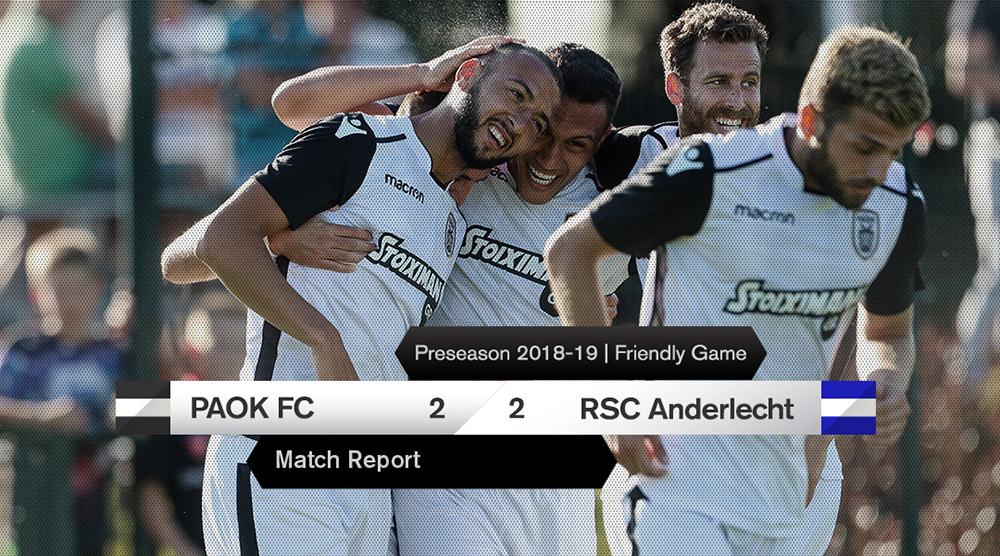 PAOK level with Anderlecht
Răzvan Lucescu opted for two different line-ups once again, one for every half, making different player combinations compared to the encounter against the U23 side of KAA Ghent. Yevhen Khacheridi made his unofficial debut for the "Double-Headed Eagle". As for Pedro Henrique, he played for the first time since returning from loan.
The Belgian side had the initiative during the first half, as PAOK had control but failed to approach the rival box. RSC Anderlecht's players applied pressure high up the pitch and looked for counterattacking opportunities. They tested Alexandros Paschalakis's reflexes a few times and scored twice in the last minutes before the interval with as many headers.
PAOK stormed out of the gates in the second half and leveled the encounter within 10 minutes. Omar El Kaddouri scored both goals. He scored the first with a close-range shot teed up by Giannis Mystakidis and then equalized with a header, set up by Lazaros Lamprou . The "Double-Headed Eagle" pushed further for a third goal, wasting some noteworthy opportunities. Stelios Kitsiou came particularly close served by Léo Jabá, but his shot was saved by the rival goalkeeper.
PAOK's line-ups:
1st half: Paschalakis , Matos, Varela , Khacheridi, Crespo , Charisis, Maurício, Pelkas, Biseswar, Henrique, Koulouris.
2nd half: Rey, Κitsiou, Μalezas, Varela (60′ Mihojević), Balogiannis (80′ Charisis), Cañas, Shakhov, El Kaddouri , Lamprou , Mystakidis.