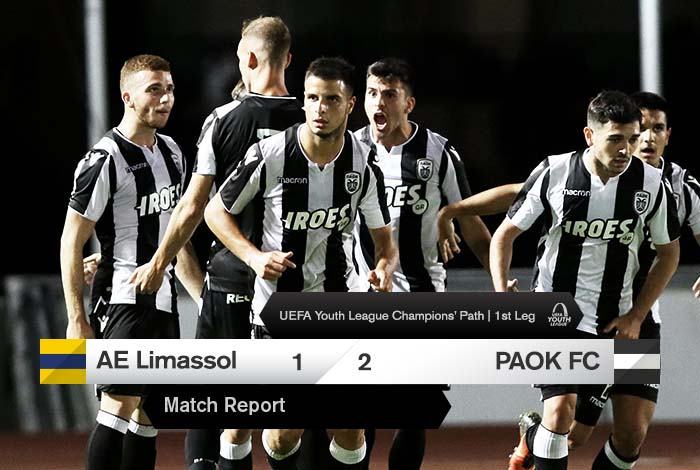 PAOK U19s take the first step
PAOK got what they wanted in Tsirio Stadium, in a match with fine pace and an excellent atmosphere attended by fans of both clubs.
The "Double-Headed Eagle" imposed their rhythm from minute one, launching numerous attacks but failing to find the net. Against the run of play, AEL Limassol took the lead after 29 minutes, with a net-buster from 40 metres out!
PAOK reacted quickly though. Two minutes later, Tsaousis charged down the left flank, crossed the ball and an AEL Limassol defender beat his own keeper in his effort to prevent Pournaras from shooting. The two teams hit the dressing rooms for half-time with 1-1 on the scoreboard.
After the interval, PAOK started strongly and Pournaras made it 2-1 in the 51st minute with an impeccable finish. The match pace dropped, high levels of humidity exhausting the players. The youngsters of Pablo García negotiated the rest of the encounter as they should, recording a "professional" win that puts them firmly in the driver's seat.
PAOK U19: Papadopoulos, Lyratzis, Τsaousis, Μichailidis, Diamantis, Tsiggaras, Meletidis (46' Salamouras), Chatzistravos (83' Maniotis), Tzovaras (57' Doumtsis), Gaitanidis, Pournaras (60' Kaloutsikidis)