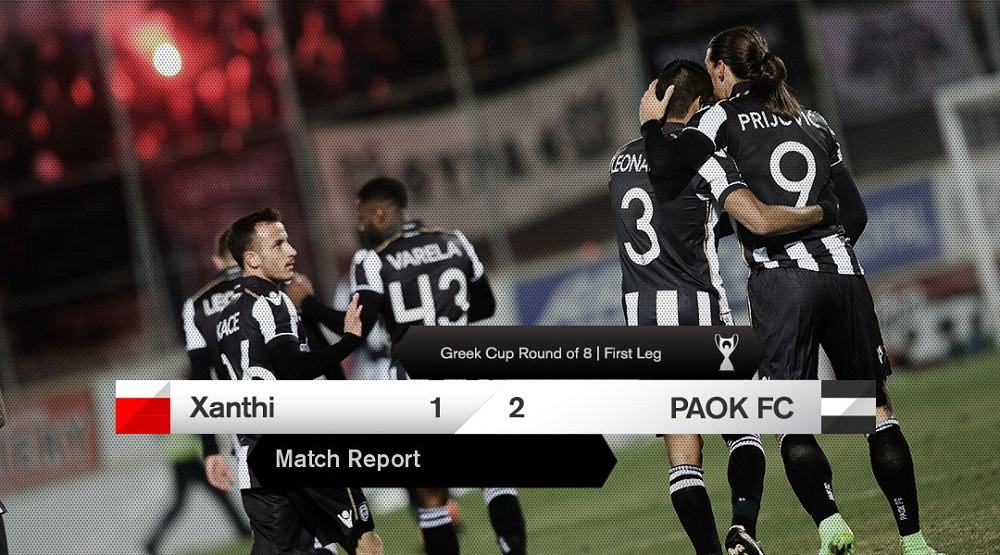 PAOK took the upper hand in their Greek Cup quarter-final tie with Xanthi, after prevailing 2-1 in Pigadia for the first leg.
The "Double-Headed Eagle" managed to edge an away victory in Xanthi, mainly by dealing with adversity in the best possible manner. They took control of the encounter early on and carved their first opportunity in the 15th minute. Pedro Henrique evaded his opponent and stormed into the box from the left, but his powerful shot went narrowly wide.
It was a warning shot by PAOK, who took the lead five minutes later. Diego Biseswar slalomed his way into the area from the left, crossing towards the path of Giannis Mystakidis who scored with an aerial toe-poke from close range.
The "black-and-whites" didn't take their foot off the throttle and came close to a second goal several times, but there was no score change until the interval.
Seven minutes into the second half, Xanthi produced their first noteworthy chance in PAOK's box and managed to equalize with a powerful angled shot by Lazić.
PAOK however came up with the answers. A few minutes after coming off the bench, in the 63rd minute, Aleksandar Prijović netted a breathtaking control-turn-shoot goal, to give his team the lead once again.
It was his third goal in as many appearances for the "Double-Headed Eagle", scored once again with his first action on the pitch!
The complexion of the encounter changed dramatically in the 70th minute, after Pedro Henrique was sent off on a second bookable offence.
PAOK had no option but retreat in an effort to defend their lead. They came close to a third goal though in the 88th minute. Prijović couldn't make the most of Xanthi's defensive blunder and sent his shot straight at Živković. The Thessaloniki side negotiated the final minutes ideally, sealing their away victory and taking a stronghold on the tie.
Line-ups:
Xanthi: Živković, Karasalidis, Baxevanidis, Younés, Lucero, Vasilakakis, Fliskas, Lazić (87' Mejía), Pizzelli, Salimo, Camara (72' Τriadis).
PΑΟΚ: Glykos, Matos, Varela, Μalezas, Leovac, Cañas (31' Kaçe), Shakhov, Biseswar (73' Κitsiou), Henrique, Μystakidis, Κoulouris (59' Prijović).