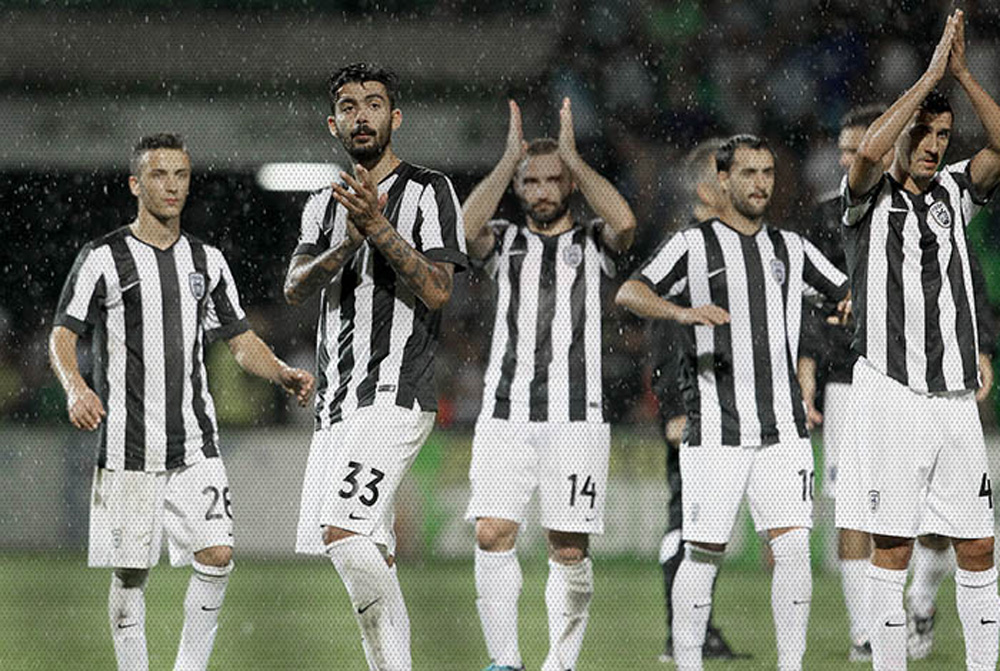 For 79 minutes, everything suggested that PAOK were playing on their home ground at Chișinău. Overwhelming possession of the ball, opportunities to score and no attacking threat from their rivals made for one of their most comfortable European outings in memory. Nobody can believe that this encounter ended in a 1-0 loss to Zimbru.
Let's take this from the beginning. Angelos Anastasiadis opted for a 4-3-3, with Panagiotis Glykos (skipper) defending goal, Stelios Kitsiou and Răzvan Raț as full backs, Giorgos Katsikas and Giannis Skondras in the centre of defence, Hedwiges Maduro, Alexandros Tziolis and Ergys Kace in midfield and an attacking trio consisting of Dimitris Salpingidis, Róbert Mak and Stefanos Athanasiadis. This formation helped PAOK gain control of the encounter, with Zimbru camped on their own half defending in numbers. Open spaces were scarce, but PAOK looked out for any opportunity to score, minding however their own defence –in a European tie's first leg, risks should always be moderated and keeping a clean sheet is almost as important as scoring. The first half ended with no clear-cut chances for any team.
After the interval, the Moldova outfit became more adventurous in attack, providing PAOK with space to charge forward –however the complexion of the encounter didn't change drastically. The pressure applied by PAOK brought to evidence the defensive shortcomings of Zimbru. Their vulnerability showed when Katsikas' header was denied by the woodwork after a corner. PAOK continued on their quest for a goal, but the efforts of Salpingidis and Mak (substituted due to fatigue) from the flanks and Maduro's and Tziolis' from the axis didn't pay off.
The match was heading towards an uneventful final stage, when Zimbru managed to get their winner, capitalizing on one of the few corners they were awarded –PAOK head coach had already referred in public to the Moldovans' ability in dead-ball situations. In one of the rare occasions that PAOK's defenders were caught off guard, Burghiu's header made it 1-0 for the home side. In the remaining ten minutes, PAOK lacked rhythm and cool head and, instead of leveling, they almost were two goals down but were saved by the woodwork.
PAOK were made to pay for their lack of official games, but also lost their concentration towards the end, thus suffering a defeat against the run of play. Qualification however remains wide open, taking under consideration the outlook of the two rivals. PAOK have proved time and time again that they rise to the occasion when playing at Toumba. They just need to cut down on the errors, as they might prove costly.
Line-ups:
Zimbru Chișinău: Rusu, Erhan, Pavlyuchek, Burghiu, Jardan, Vremea, Klimovich, Spătaru (61΄ Višņakovs), Amani (69′ Alexeev), Cheptine (82΄ Diallo), Grosu.
PΑΟΚ: Glykos, Kitsiou (79΄ Spyropoulos) Raț, Katsikas, Skondras, Kace, Tziolis (67΄ Martens), Maduro, Salpingidis, Mak (66΄ Pereyra), Athanasiadis.