paokfc.gr/News/
Letter from New York
Letter from New York
A few days ago, PAOK Fan Club of New York held their own event to celebrate the club's 90th anniversary.
06.05.2016
The club members describe in their own way how that evening unfolded. PAOK family and paokfc.gr are always beside the fans who are rooting for the "Double-Headed Eagle" thousands of miles away.
90 years of PAOK: Constantinople – Thessaloniki – New York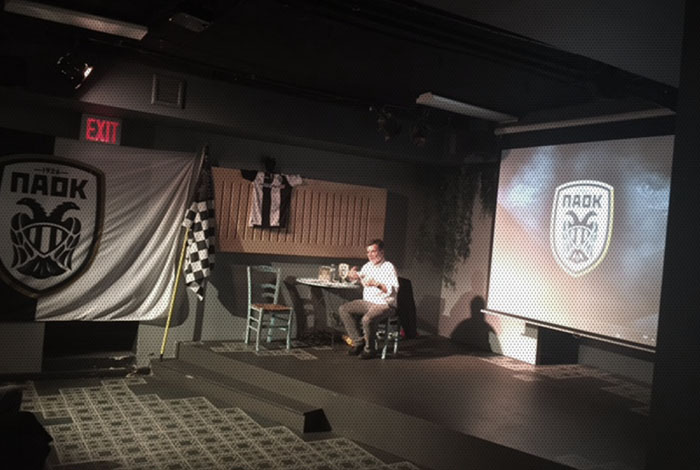 PAOK's heart beats in Thessaloniki and the 90th anniversary was held there, but the "Double-Headed Eagle" spreads its wings all around the world. Its last flight was 8.000 kms to the west, to majestic New York, to the Greek Culture Centre.
PAOK FC Fan Club of New York chose to celebrate PAOK's 90th anniversary there. The play Sons and Daughters of Thessaloniki-born author Giannis Kalavrianos, directed by Lito Triantafyllidis (also born in Thessaloniki) is being staged nowadays in the Greek Culture Centre, at the heart of Astoria.
PAOK FC Fan Club of New York welcomed Kyriakos Giantsidis, who represented PAOK FC in the event and declared it open with his speech. The coordination committee of the fan club, consisting of Anatoli Mastoras, Olympia Ignatiadis, Alexandros Vlachos and Kostas Efkarpidis, welcomed the friends of the team in the Theatre Hall of the Greek Culture Centre.
The event continued with a lecture of renowned historian Alexandros Kitroev, focusing on PAOK's role not just as a sports entity, but mainly as a social-political compass. During the lecture, PAOK friends posed their questions and astute comments to Mr. Kitroev, mainly regarding the filthy and immoral status quo in Greek football. Afterwards, those attending the event were treated to a nice surprise: Róbert Mak, Stefanos Athanasiadis and Stelios Malezas conveyed their warm greetings to the fan club members from the screen. The fans asked for the video to be shown again so that they could record it on their mobile phones –evidence of their huge love and pride for PAOK.
The event continued with the projection of the film PAOK for life, produced by PAOK's veterans. A film that brought back memories of moments that link each and everyone with the team.
After the projection, PAOK fans got the opportunity to exchange opinion and speak to Kyriakos Giantsidis who made them feel closer to the team, even if they are 8.000 kms away. It was a beautiful black-and-white day in New York, filled with pride, learning, wondering and, above all, dignity.