paokfc.gr/News/
PAOK U11s won the World Cup
PAOK U11s won the World Cup
This trip was a dream come true anyway. Paris, Disneyland –we are talking about children after all- and a taste of Euro 2016. But PAOK U11s didn't go to France on vacation, but to compete in the World Cup, one of Europe's most prestigious youth tournaments. And they won it!
08.07.2016
The troops of Andreas Balabanis and Antonis Krinitsas were too good for their opponents and cruised to the trophy by recording only victories and with a goal tally of 36-3! It's an important accolade, taking under consideration that there were 400 teams participating in the tournament. It's the second international title for PAOK U11s this season, following their success in the Catnic Cup in Germany.
In the final game, PAOK prevailed 4-1 over CFFP and earned the praise of the organizers for the moral values of the players, displayed throughout the tournament. On their way to the final, the "Double-Headed Eagle" lined up victories over ACBB (2-0), FC Bry (9-0) and ESC FOOT 94 (5-0) in the group stage. Then they defeated ES Viry-Chatillon (8-1) in the last "16" stage and won their quarter-final against Conflans (5-0), before prevailing in the semi-final 3-1 over Neuilly-sur-Marne.
The children also had the opportunity to get a taste of Paris, as they visited Eiffel Tower, Arc de Triomphe and Louvre Museum and they also went to Disneyland. As for the video with them chanting for PAOK in the streets of Paris has already gone viral.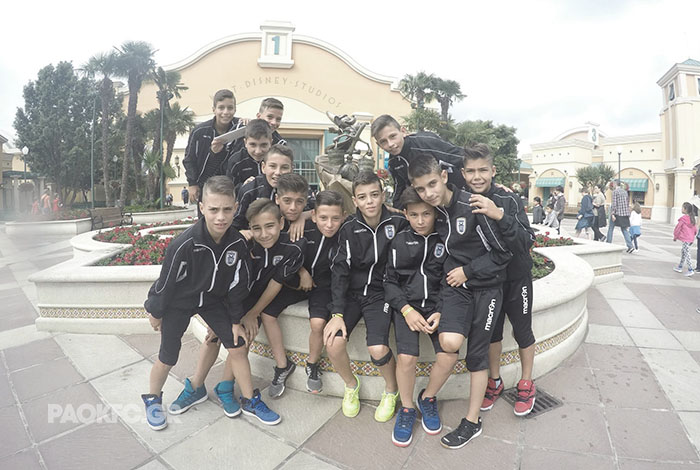 PAOK U11 squad: Spyridon Angelidis, Vasilios Karapatsias, Efrem Fotiadis, Konstantinos Ignatiou, Stefanos Aliferopoulos, Dimitris Kottas, Charalampos Georgiadis, Konstantinos Goumas, Christos Kosidis, Konstantinos Theodosiadis, Dimitrios Papaevangelou, Nikolaos Mavris, Christos Almyras