paokfc.gr/News/
PAOK – AEK: Tickets
PAOK – AEK: Tickets
PAOK FC announce that tickets for their Super League Souroti encounter against AEK Athens, corresponding to matchday 4, go on sale exclusively on the internet (www.paokfc.gr) on Friday 21 September 2018 at 09:00. The match will kick-off in Toumba Stadium on Sunday 23 September at 20:30.
19.09.2018
Ticket prices vary as follows:
| | |
| --- | --- |
| Gate | Price |
| 1 | €50 |
| 2, 3 | €40 |
| 5, 6 | €25 |
| 4, 4A | €15 |
| 7Α | €15 |
| 8 | €15 |
| VIP 3rd floor: | €150 |
| VIP 4th floor: | €150 |
This is the tickets' sales point:
If you have purchased your ticket via internet and wish to collect it from the ticket-counters, you are kindly requested to come to Toumba during working hours and show your ID card and reservation number.
In case a ticket holder is unable to go in person to the PAOK FC ticket counters, an authorized representative can collect the tickets for them, upon demonstration of the ticket holder's identity card, the purchase confirmation number and the authorization paper.
To purchase a ticket, an ID confirmation is required, along with the demonstration of the fan's AMKA number (mandatory according to the new sports' law).
To purchase your ticket online and for further information, click HERE.
SPECIFICATIONS
No tickets will be issued for Gate 7, as they all correspond to season tickets of the current season.
If you have purchased your ticket via internet and have chosen the option «[email protected]», you can either print your ticket or gain entrance via the QR code on your mobile phone.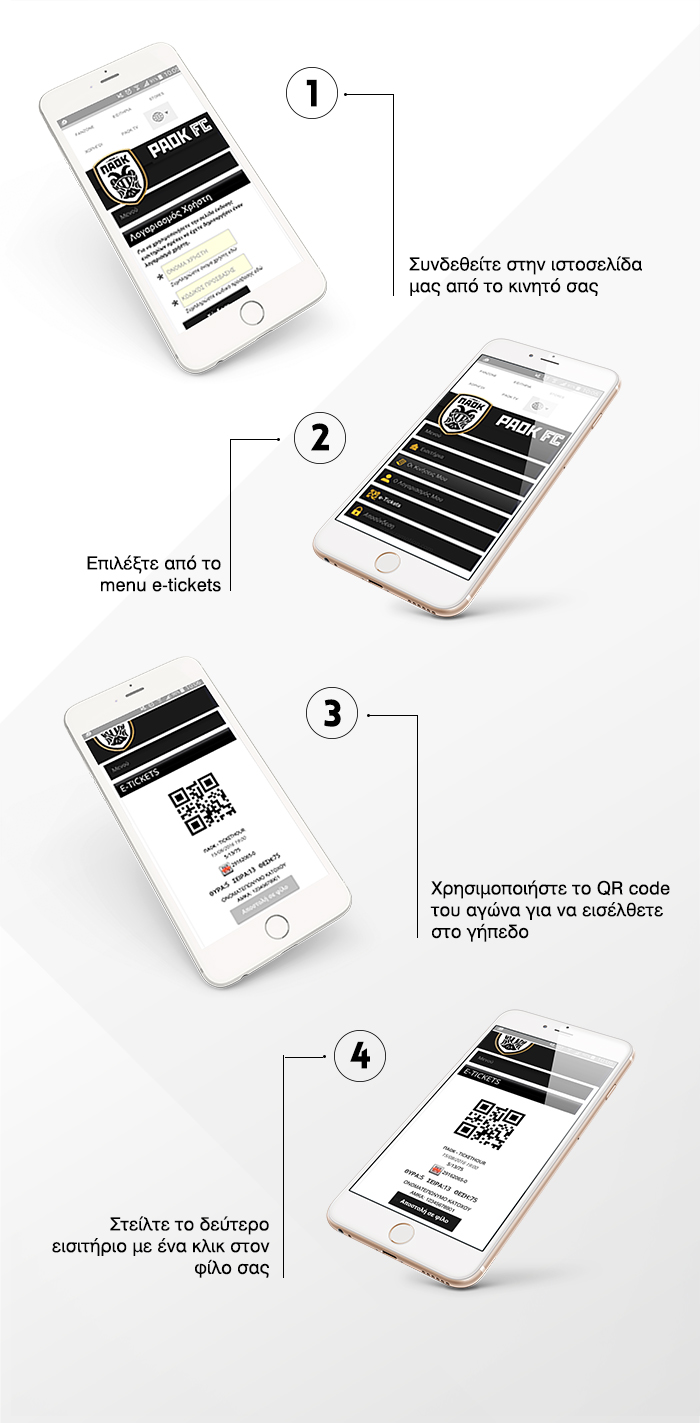 For the VIP and VIP A ticket holders, free parking is provided in P3 (school yard right across the VIP gates of Toumba Stadium). To access the parking space, drivers must show their match ticket and parking card.
Children up to the age of 15 can purchase a ticket only if escorted by a parent or an adult guardian, producing the child's AMKA number and a public certificate of his/her identity.
To purchase your ticket online and for further information, click HERE.
There will be also a family gate available in Gate 7, but the ticket number is limited. By paying just 15 euros, a father, a mother and their children (up to 12 years old) can attend PAOK's football matches in the especially-formatted gate.
Family tickets can be purchased on our official website.
To purchase your family ticket via internet and for more info, click HERE.
Children aged up to 12 years old (including those born in 2006) have free access to the match, provided that their escorts will produce documentation proving the child's age. However, in view of a most probable sold-out, we strongly recommend that escorts buy a ticket for the children as well, to guarantee their seat.
PAOK fans attending matches at Toumba Stadium should know that bringing along an identification document (ID card, military card, passport or driving license) is a prerequisite in order to gain access into the venue.
CONTACT US
Telephone No: 2310954099
Ε-mail: [email protected]