paokfc.gr/News/
Stars of the derby
Stars of the derby
Just a few hours before the big kick-off of the rearranged Super League Interwetten Matchday 6 derby clash between PAOK and Olympiacos at the Toumba, paokfc.gr presents some interesting highlights of the top performers from previous clashes.
13.01.2021
Meetings between the two clubs at the Toumba have left their mark on history. The two heavyweights of Greek football have faced each other a total of 63 times to date, with PAOK holder a superior record in terms of victories over the Erythrolefki (31 victories vs 15 by Olympiacos). But, let us go back in time and remember the major protagonists and the most important moments of the clashes between the two sides.
Stats
Who are the players who have left their mark on the history of PAOK-Olympiacos contests? The numbers speak for themselves. The man with the most appearances is Giorgos Koudas with 35. He is followed by Stavros Sarafis with 26, and Costas Iosisfidis with 25.
Appearances:
KOUDAS 35
SARAFIS 26
IOSIFIDIS 25
GOUNARIS 23
FOUNTOUKIDIS 23
SKARTADOS 18
SALPINGIDIS 17
TERZANIDIS 17
NIKOLAIDIS 17
APOSTOLIDIS 16
LAGONIDIS 16
The honor of top scorer is shared between three players: Giorgos Koudas, Giorgos Skartados, and Anestis Afentoulidis, all of whom have scored seven goals. Skartados has scored the most at the Toumba (6).
TOP SCORERS:
SKARTADOS 7 (6-1)
AFENTOULIDIS 7 (4-3)
KOUDAS 7 (4-3)
SARAFIS 6 (4-2)
GUERINO 5 (4-1)
LAGONIDIS 4 (2-2)
KERMANIDIS 4 (4-0)
From the Toumba to Piraeus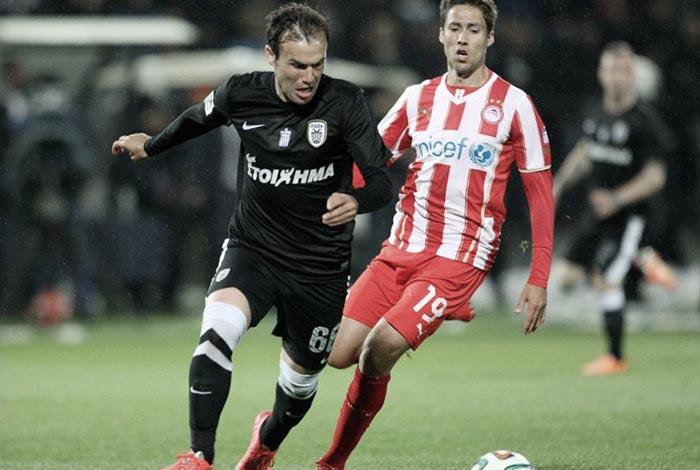 In Greece, transfers between the country's top teams were and remain somewhat of a football taboo. However, 25 players have worn the jerseys of both clubs. In 1980 Kostas Orfanos became the trailblazer who left Thessaloniki to move to Piraeus. The last time a player made the move was the Israeli Bibras Nacho, with a difference of four years between his appearances.
The following is a list of the players who have played for both clubs: Kostas Orfanos, Giannis Gounaris, Pete Skouras, Giorgos Kostikos, Haris Baniotis, Sotiris Mavrommatis, Makis Chavos, Giorgos Mitsibonas, Vangelis Kalogeropoulos, Alexis Alexiou, Giorgos Skartados, Giotis Tsalouchidos, Bozindar Bantovic, Kyriakos Tochouroglou, Kofi Abonsa, Luciano, Stelios Venetidis, Giorgos Georgiadis, Giannis Okkas, Pantelis Kafes, Lambros Choutos, Leonardo, Pablo Contreras, Fanis Tzandaris, Bibras Natcho.
However, it is not only players, but also coaches, who have taken the reins of both teams in their history so far. There have been nine coaches in all, and those are the following: Les Shannon, Lakis Petropoulos, Heinz Hecher, Nikos Alefantos, Giannis Gounaris, Thais Liebrechts, Liupko Petrovic, Oleg Blokhin, and Dusan Bajevic.
Gounaris is the only one who played for both teams and also later sat in the dugouts of both clubs.