paokfc.gr/First Team/
Vote for February's Regency Casino Best Goal
Vote for February's Regency Casino Best Goal
All three goals could easily be voted as the goal of the season. Unfortunately, we can only choose one of them for February's Best Goal contest. Let's try and solve one of the most difficult problems we have had so far this season and vote for the Regency Casino Best Goal for February.
04.03.2022
For this month's contest, we are not really talking about three simple goals, but about three masterpieces. Three goals of rare beauty that were scored in the same month by Double-headed Eagle players.
The first was Sastre's winner against Panathinaikos in the Toumba derby clash. The Spaniard crashed home an amazing shot from long range in off the crossbar. A strike which was simply amazing!
Then we have Jasmin Kurtic's 95th minute stunner against AEK at the OAKA in the Greek Cup. One could say that on such occasions there is too much tension and pressure. But not for The Sniper. Impressive control, a quick shimmy, and a stunning curler leaving the opposing goalkeeper absolutely no chance. Magical!
Finally, there was Andelino Vieirinha's masterpiece in the second leg of the UEFA Europe Conference League tie with Midtjylland at the Toumba. He seems to age like fine wine! The ball came to him on the edge of penalty area. The Leader brought the ball under control with skill and purpose, and then without much thought or backlift he fired a thunderbolt of a strike into the top corner. Wonderful!
Subscribe to PAOK TV, watch the video, and take part in the voting.
Vote for February's Regency Casino Best Goal
Results

Thank you

Thank you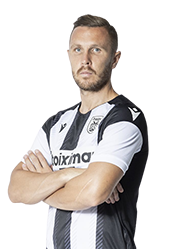 Thank you