paokfc.gr/First Team/
Vote for September's Regency Casino Best Goal
Vote for September's Regency Casino Best Goal
Kurtic and Narey are drawing swords in teh battle for the Regency Casino Best Goal of September. You will decide the final winner via paokfc.gr and the PAOK FC Official App.
29.09.2022
Ο Γιάσμιν Κούρτιτς βάζει υποψηφιότητα για το βραβείο με την υπέροχη κεφαλιά που σημείωσε κόντρα στη Λαμία. Ο Νάρεϊ εκτέλεσε το κόρνερ κι ο Σλοβένος έκανε μία εξαιρετική ενέργεια, πήρε τη σωστή θέση κι εκτέλεσε για να χαρίσει το τρίποντο στον Δικέφαλο.
Ο δημιουργός της πρώτης υποψηφιότητας στη δεύτερη γίνεται εκτελεστής. Ο λόγος για τον Κάλεντ Νάρεϊ και το υπέροχο γκολ που πέτυχε στο Ηράκλειο κόντρα στον ΟΦΗ. Ο Αντρέ Βιεϊρίνια έκανε μία υπέροχη μπαλιά στην πλάτη της άμυνας, ο Νάρεϊ έκανε το κοντρόλ με το στήθος και πριν η μπάλα ακουμπήσει στο έδαφος έπιασε ένα δυνατό σουτ που δεν άφησε περιθώρια αντίδρασης στον αντίπαλο τερματοφύλακα.
Δείτε το βίντεο που ακολουθεί, θυμηθείτε τα δύο γκολ, πάρτε θέση στο poll κι εγγραφείτε στο επίσημο κανάλι του ΠΑΟΚ στο You Tube για να μαθαίνετε πρώτοι τα νέα της αγαπημένης μας ομάδας.
PAOK TV: Play Store / App Store
PAOK FC Official App:  Play Store / App Store
Vote for September's Regency Casino Best Goal
Results

Thank you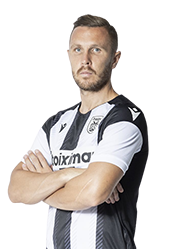 Thank you