paokfc.gr/First Team/
Life Story – Stefan Schwab
Life Story – Stefan Schwab
Dynamic, quiet, but highly effective. He could be described as synonymous with the phrase value for money in an unofficial football dictionary. He is our Mr. Effective, as with a healthy dose of realism (on the verge of cynicism) – the power of the Austrian mentality, he carries out his … special missions for PAOK.
09.01.2022
Paokfc.gr has its own special mission. To shed a little more light on the life and times of Stefan Schwab. The child, the footballer, the father, the brother, and the student. Sit back and enjoy the story.
Last but not least!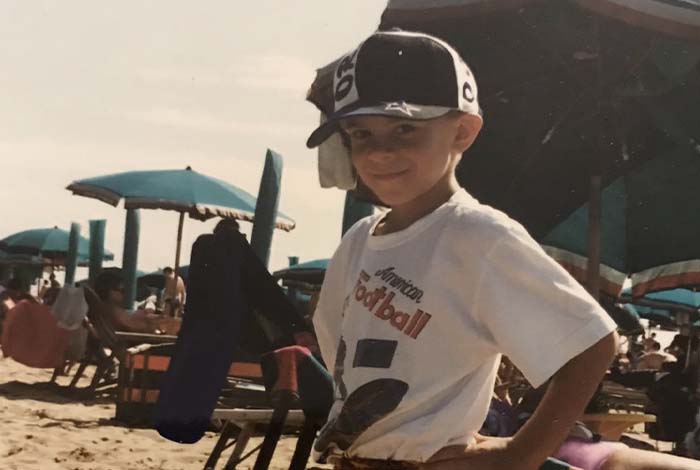 In a small town near Salzburg called Saalfelden – a place where mainly skiing and winter sports champions are born – Franz, a plumber working for a large company, and later a manager in a department store, and Christa, a saleswoman in a tourist souvenir shop and an assistant in a detox center, became parents for the fourth time in September 1990. Continuing the tradition, they had another boy.
You see, he was preceded by Gerold in 1975, Christoph in 1978, and Roland in 1983. Stefan completed the family as the youngest, and of course the most pampered. Roland took care of him from the first moment. He was the only one who could control him, after all. And Stefan was not exactly the quietest kid. This relationship that was built in their carefree childhood has remained unchanged to this day. Ronald is his best friend, his second father, and his agent, as he trusts him more than anyone.
Diving on… rugs
In Taxau, the otherwise quiet settlement where they grew up, the Schwab duo… built their own reputation for their athletic exploits in both football and skiing. Stefan, addicted to the adrenaline of sports, used to hide when his mother called him, in order to secure a little extra time, usually between the posts.
You see, he was the youngest child and he did not have the right to choose a position. As a goalkeeper he had to protect his team, as his brother protected him. The result? Every night, when it got dark and he was forced to go home, he always came home with few cuts and bruises on his knees and elbows from diving around on the asphalt.
The solution to the problem was provided by the practical mind of his mother. In order to avoid being scratched and scraped, she bought him a big rug and forced him to lay it in front of the goalline. The bloodshed stopped, only for the laughter from the other children in the neighborhood to start.
The laughter was sadly cut short when the Schwab family tragically lost their eldest boy. Gerold passed away at the age of 20 following a motorcycle accident. The girl who was a passenger was lucky and survived, in contrast to Gerold, who was killed, a moment which sent the whole family into mourning.
From the mountains to the football pitches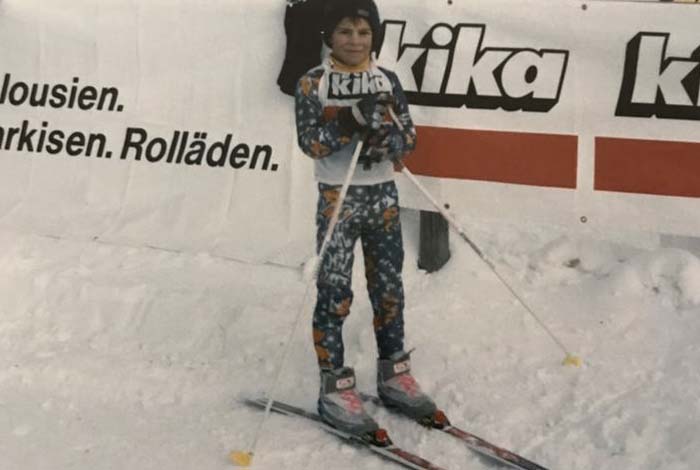 Growing up, Stefan had to choose between skiing, biathlon and football. All of these sports did not leave him with much time for his studies, and this had an impact on his grades. Nevertheless, his his mind was only on sports.
In football, he went from being a goalkeeper to midfielder for Saafelder. During a youth tournament, former Austrian footballer and current coach Heimo Pfeifenberger, who saw him play in several tournaments and was enthusiastic, visiting the family home to make the first professional proposal to little Stefan. This was a proposal to move to the neighboring city of Salzburg and start his first professional steps at the Red Bull youth academy.
Red Bull gave him wings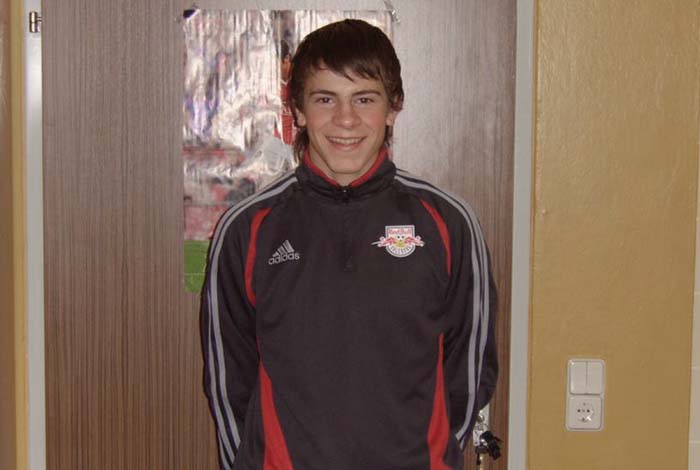 Returning from skiing that night, his father spoke seriously about the offer he had received from his friend and asked him to choose – although so young – what career he would like to pursue. Despite his love for the mountains, Stefan thought that winter sports only lasted for a few months, so he chose to focus on football. In Salzburg, after all, he would find Roland again, who was studying and playing volleyball in the team of the same name.
He stayed at the Red Bull academy from 2004 to 2009. There, he grew up and finished school. At the age of 19, he took a six-month «break» for his military duties and returned to the Salzburg B team for a season and a half (2009-2011), under coach Nikos Kovac. The team, however, fell into the third division and Stefan trained for a few weeks with the first team.
Debut and a huge loss in the family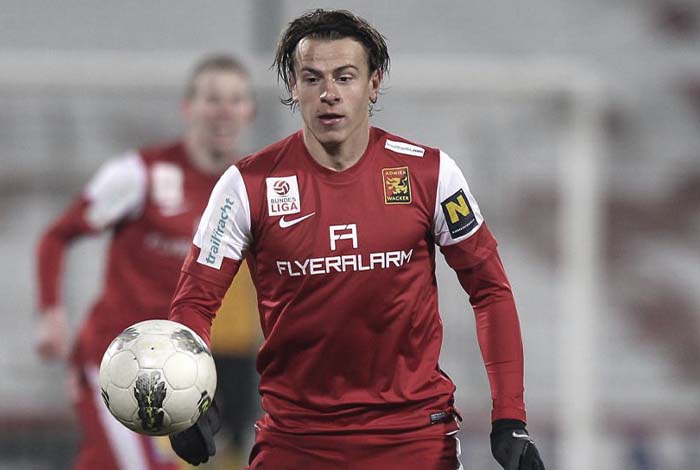 However, it was too early to get playing time for the senior side, while at the same time, he did not want to take a step back and play in the third division with the second team. So, it was decided that he would go out on loan at Lustenau, with which he made his professional debut at the senior men's level.
In the summer of 2011, at the age of 21, he was loaned to Antmira Walker, who were then playing in the second division. With Dietmar Koubauer at the helm, whom he met again at Rapid later on (2018-20), the team was promoted to the top flight and Schwab remained there as a regular until 2014.
The joy of his sporting career was overshadowed by another family loss. His father lost his battle with cancer, a moment which shook the family to its core.
Transfer and the national team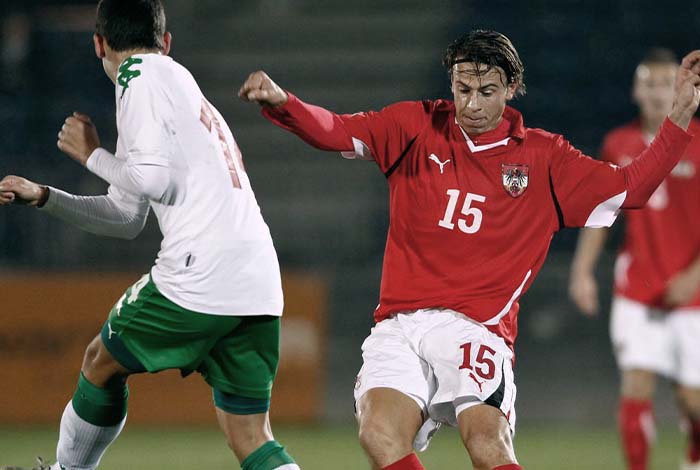 In such cases, they say it is good to have a change of environment. It was then the capital called. Rapid and Austria Vienna both submitted proposals for his services. The choice was easy for Stefan. From a young age he dreamed of playing for Rapid, mainly becuase of the reputation of the club's supporters, but also for the team's history in Austrian football. With a contract worth 400,000 euros, he said yes and signed with the Greens, where he stayed until 2020.
n 2017, in fact, while his teammate Stephen Hoffman – one of the biggest names in domestic football – was still playing, Schwab was named captain and for the next three years he continued to be the team captain, making 186 appearances scoring 41 goals.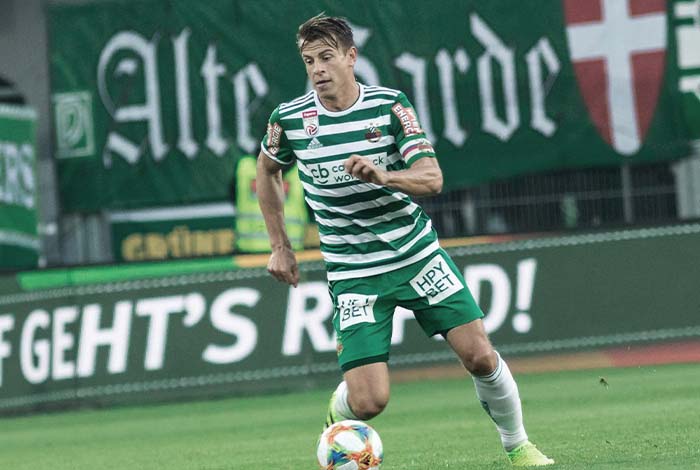 Being a Rapid player, he was called up for the first time to the Austria team for the Euro 2016 qualifiers against Liechtenstein. He had competed with the Under-19s, Under-20 and Under-21 levels, but his participation in the senior men's team gave him great confidence. What he failed to do in Vienna was to win titles. His team reached the Austrian Cup final twice, but they were defeated by Salzburg.
Wedding
The most important personal title he won in the capital, of course, was the heart of Chiara. He had known her since high school, they were separated for a while, but as she was studying in Vienna, it was an opportunity for the two of them to reunite and never separate again. In Chiara, Stefan found his two favorite countries (Austria-Italy) combined. With an Italian mother, it was the perfect mix for him. In 2018 he married her in a traditional Austrian ceremony in his homeland, and in 2019 this was repeated with a religious wedding in their beloved Italy. In July 2020, their son Matteo Francesco was born.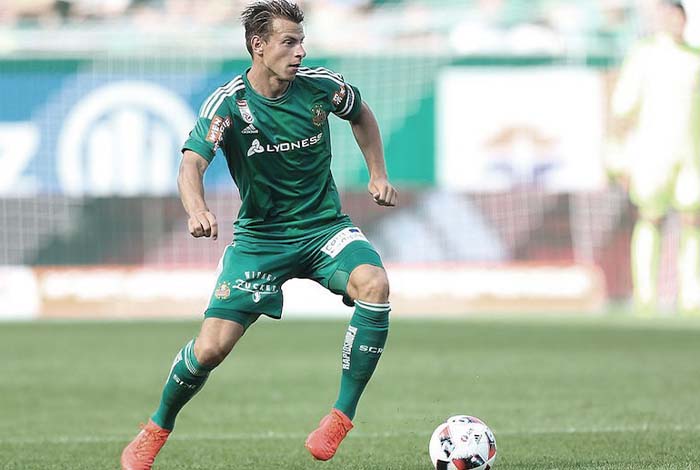 Since we are talking about family matters, it is worth mentioning that Stefan was the best man for his brother Ronald. Unfortunately though, the wedding date coincided with the opening of Rapid's stadium. No, it's not one of those stories where the wedding takes place on the pitch. Rapid just had a friendly with Chelsea that day. And Stefan could not get permission to have the day off.
So the team proposed to rent a helicopter to go to Salzburg to marry his brother, and then return directly to the stadium. Stefan turned down the offer and chose to drive to Salzburg for the ceremony, come directly back and to the stadium in order to be substituted in for the last minutes of the game, and then drive back another three hours distance to enjoy the wedding party.  If this had happened in Greece, he would have surely missed out on the first round of clarinet playing, of course!
FACTS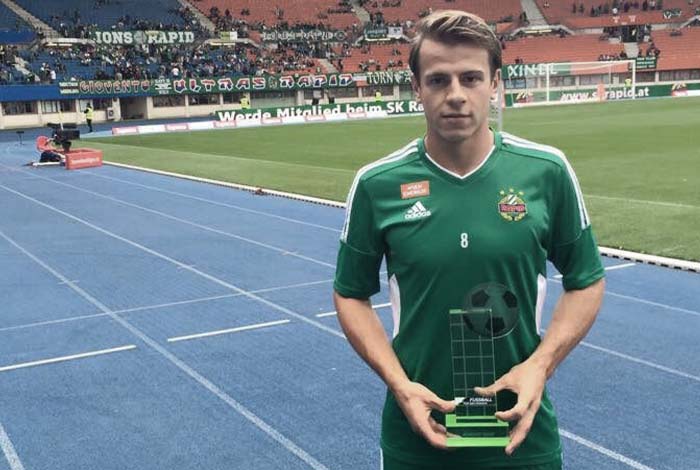 He speaks English, German and Italian.
He is studying online Business Administration & Sports at a private university in Austria.
If he was not a footballer he would like to be a football commentator!
His favorite foods are pasta and pizza. His favorite drink (when allowed) is Aperol Spritz and the well-known Austrian drink Elderflower schorle.
His favorite types of music are house, Latin and traditional Austrian. He also likes to sings karaoke!
He plays volleyball (his brother's influence), basketball, and of course when he finds time, he also goes skiing in his homeland.
He is not simply spening all his money on the good life though. He invests in real estate in both Vienna and Salzburg.
His idols are Alessandro Del Piero, his brother Roland and LeBron James.
He has his own… groupie! The 27-year-old Ania has created a fan club and various social media groups for Stefan.
He would describe his character in five words: athletic, polite, open-minded, impatient and compulsive.
His roommate at PAOK for away games is Karol Swiderski.
His closest friends from the team are Omar El Kaddouri and Jose Angel Crespo.
He thinks that Christos Tzolis is quite funny.
In his opinion, the best quality player at PAOK is Andre Vieirinha.
In terms of character, he has a weakness for Charis Tsingaras.
His best friend from football is Christoph Sosvender.