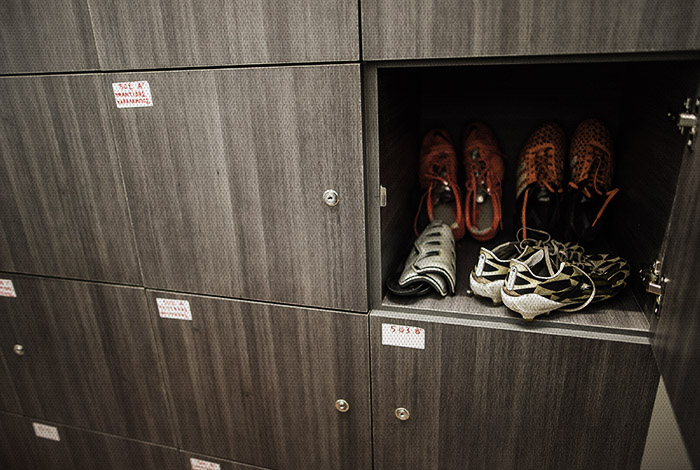 The House of PAOK Academy
Investments aiming to a brighter future have been all along the main objective of Ivan Savvidis at PAOK FC. Through his actions, the major shareholder of the club has been confirming that anything can be achieved, if done methodically.
Mr. Ivan Savvidis invests time and care in the PAOK Youth and Development sections, knowing their importance. He recently took the initiative to house the young players, who were living in Toumba dorms, in a seven-storey building at the heart of Thessaloniki.
The building at Vasilisis Olga Street, where Efxinos Club held their headquarters in the past, is now the home of PAOK Academy. It has been leased by PAOK for five years. This move guarantees adequate and controlled living environment for the young players, who have parted from their families to come to Thessaloniki for PAOK. It proves a perfect solution until the new training centre of the "Double-Headed Eagle" will be ready. Then all youth sections will move there.
Since early September, 35 children belonging to PAOK Academy have moved to their new home. They used to live in the dorms of PAOK at Toumba or in apartments rented by the club.
These lucky players are all under one roof and all their needs are met. Training programs, nutrition, medical care, school courses, buses to take them to and from the training grounds, security. Grigoris Karavelis, who is in charge of the project, declares himself extremely satisfied and is convinced that PAOK Academy Home will prove an even bigger boost for the young footballers..
The building (1.260 sq.metres – 180 sq.metres by floor) was recently renovated and is ideal for children as it was built as a students' house. When all work is completed, including a new gym, it will be the perfect setting to bring up young athletes.
There is a recreation centre on the 7th floor, next to the kitchen. There are bedrooms in four floors, along with a medical examination room, the headquarters of the manager and four classrooms. The Junior and Senior High School are located nearby. The young players go to and from trainings with a team bus of course. Distances are reduced, time is saved and daily schedule is kept unswervingly.
For the proper running of the house, there are also 10 people employed, along with the doctors and teachers: four guards working 24-7, two cleaning ladies, two cooks, a janitor and a waiter.
Efxinos Club of Thessaloniki is the oldest club of Pontiacs in the country. The building on Vasilisis Olga Street, leased by PAOK, was a former boarding house for students.