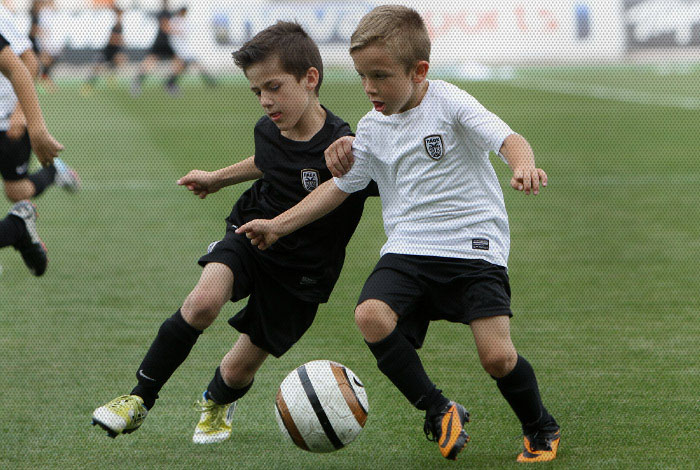 PAOK Academy's philosophy and aims
Aims are set to be conquered. Achieving them is the last step, but to reach that one has to go through hard work, agony, disappointment, falling, strength to rise up again, hope, dream… All the ingredients uniting a whole community behind the ultimate goal.
People at PAOK FC Youth Sections have a dream since 2007. It's a conscientious resolution rather, taking into account all parameters. They want to create Greek footballers and set the ground for a Greek football school. They have a long way ahead of them and only time will tell if their bet will be won or not. What counts however is their continuous quest to see their efforts come to fruition. The official website of PAOK FC, paokfc.gr, presents the world of the club's academies, their philosophy, structure, history and impressive progress.
Responsibility, stress, joy and satisfaction is what the people working at PAOK FC Youth Sections feel each day, as they mould and develop the future of the club.
Before 2007, the scouting process was embryonic. Since that year however, PAOK FC embarked on a coordinated effort to organize and boost their Youth Sections. In the Savvidis era, the restart button has been pushed and the aim is high: to become one of Europe's finest academies in the next five years".
Once the new training centre is complete, everything will be functioning with less hardship. It's not just about having new infrastructure –an important issue anyway. It is also about getting the opportunity to create a school, where PAOK youngsters will be able to combine their school work with the hard daily training. There are 280 children of all ages (from 5 to 20!) training at PAOK! There are 14 different teams in PAOK youth sections: U20, U17, U15, U14, U13, U12, U11, U10, U9, even the U8, U7, U6, U5.
Vangelis Pourliotopoulos is the general coordinator of PAOK Academies, goalkeeper of more than 180 matches in Greece's top flight league (at Ionikos, Panionios, PAOK and Aris).More than 40 individuals work at PAOK Youth and Developments sections: coordinators, trainers, physical instructors, technical directors, doctors, physiotherapists, teachers…