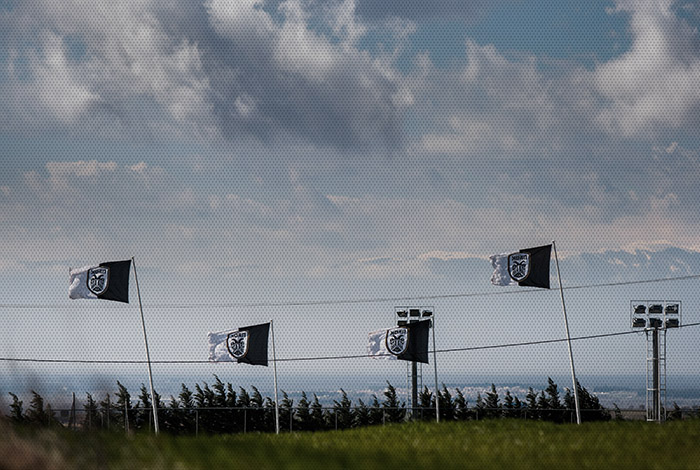 Nea Mesimvria Sports Center
When Theodoros Zagorakis took over and PAOK stepped into a new era in 2007, one of the main issues to handle was encountering a space to build the "home of PAOK". After examining several proposals and holding quite a few meetings, the Board of Directors of PAOK FC finally opted for the area of Nea Mesimvria Thessaloniki.
In June 2008 it was decided to construct PAOK's new sports centre at Nea Mesimvria, aiming to serve the team, but also boost the economy and tourism of this specific area of Thessaloniki.
On 10 July 2008, the signing of the area's acquisition took place in Agios Athanasios City Hall. Construction started on Thursday 26 February 2009 and a special event marked the occasion.
The training centre stretches for 17,5 acres (70.000 square metres). One part (12,6875 acres) consists of four pitches and the second (4,8125 acres) has three pitches, one of them with artificial turf. The land was conceded for 25 years to PAOK FC for a token payment from the municipality of Agios Athanasios, in the western part of Thessaloniki.
PAOK's black-and-white "home"
PAOK's senior squad started training at Nea Mesimvria on 1 September 2011, along with various youth sections of the club.
There are seven pitches in the Sports Centre of Nea Mesimvria, one of them with artificial turf. Six of them have floodlights, enabling training sessions held late in the evening.
There are several buildings in the premises. The central building stages the dressing rooms, the gym and the coach's office. The second building houses the dressing rooms of the youth sections. There are also auxiliary buildings for the senior team (storehouse etc), the recreation building, the pumping station, the guard-house and a bar.
The surrounding area hosts a parking lot for 100 vehicles. Groundwork has been completed and licenses have been issued by the town-planning authority for the construction of bigger locker rooms (1.200 sq.m.), as well as a building for administration offices and dorms (2.500 sq.m.).
The continuous improvement to the club's infrastructure
Since 2004, PAOK's training center at Nea Mesimvria has been completely renovated and modernized to provide players with top class recreational areas, restaurants and rest areas.
Work has been completed at a feverish pace, and now the new recovery space covers an area of 500sq ft., and it includes a swimming pool, jacuzzi, a cryotherapy room, a neuroflexology corridor, and an improved, larger physiotherapy center. The gym has also been expanded and renovated.
The training center now also boasts a new restaurant with its own kitchen staff making food for players and staff, as well as a players' resting room. Work has also been done to improve the surrounding area, while the parking areas have also been expanded and enhanced.