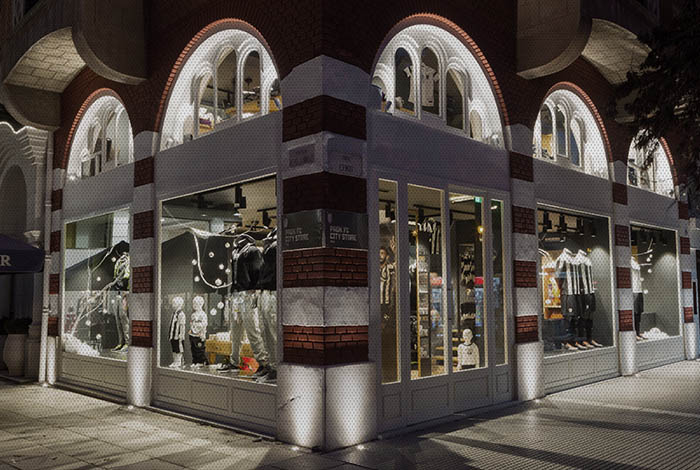 PAOK FC's two official stores are located at Toumba Stadium and in the centre of Thessaloniki. They are considered the top club stores in Greece and among the most successful in Europe.
PAOK FC Official Store at Toumba underwent extensive renovation work in the summer of 2012 and won over the fans in no time. It has even surpassed the expectations of the company supplying PAOK with their official apparel and equipment.
On matchdays, more than 2.000 fans go through the store doors, while average visits are estimated to more than 1.000 on a daily basis when there is no match at Toumba.
In December 2014, PAOK brought back to life their own corner in the heart of the city. PAOK FC City Store 1926 opened its gates in the historic red-brick building at Agia Sofia Square. Apart from being the year of PAOK's foundation, 1926 marks also the year when work was completed at Agia Sofia, the church bringing back memories of Constantinople and our roots.
In the two official stores of the "Double-Headed Eagle", our fans can enjoy a vast variety of products, including the official kits, Nike T-shirts of our team, the PFC line, PAOK watches signed by Vostok, balls, accessories and memorabilia stamped with PAOK's logo, hats, scarves, baby and home products and NIKE shoes.
Meanwhile, PAOK FC Official Mobile Store is unique in Greece. It travels to different parts of the city and outside Thessaloniki to bring the team's official products to PAOK fans who live far from the stores.
You can also buy official PAOK merchandise by clicking on store.paokfc.gr.
Protecting the brand PAOK FC
The name, emblem and logos of PAOK FC form part of the club's intellectual property rights, they are registered. Therefore their unauthorized use is considered counterfeiting and warrants legal action against the counterfeiters and the sellers.
What are the consequences?
Products with forged or counterfeited logos, the so-called knock-offs, are the means of deceiving consumers. When someone purchases a product with forged or counterfeited PAOK logo, they erroneously think it is authentic. They are not aware that it hasn't gone through the appropriate quality testing and that it has been manufactured in premises that do not follow acceptable manufacturing codes of conduct. That's why counterfeit goods can easily become faulty or even cause injury!
What can we do?
Wanting to protect their fans, PAOK FC are dedicated to helping fight the crime of counterfeiting. The legal department of the club collaborates with law enforcement officers, trading authorities and customs to ensure that illegal goods never make it to their planned destination.
How can we help?
We work with the afore-mentioned agencies to make sure that whenever such goods are spotted, the counterfeiters are arrested and prosecuted to the fullest extent of the law. We also rely heavily upon our loyal supporters to help us put an end to this illegal activity. It's about protecting the brand of PAOK FC. We consider valuable any information you can provide by letting us know of any counterfeit activity you come across. It will help us deal with the phenomenon of counterfeiters who make illegal profit at the expense of our club. All information provided to the relevant department of PAOK FC will be treated in the strictest confidence. Please send all mail enquiries to  [email protected] or to the following address:
PAOK FC
Brand Protection Department
Mikras Asias 1, Toumba Stadium, Thessaloniki, Postal Code 54351
Tel:.+30 2310 954050   Fax: +30 2310 951000