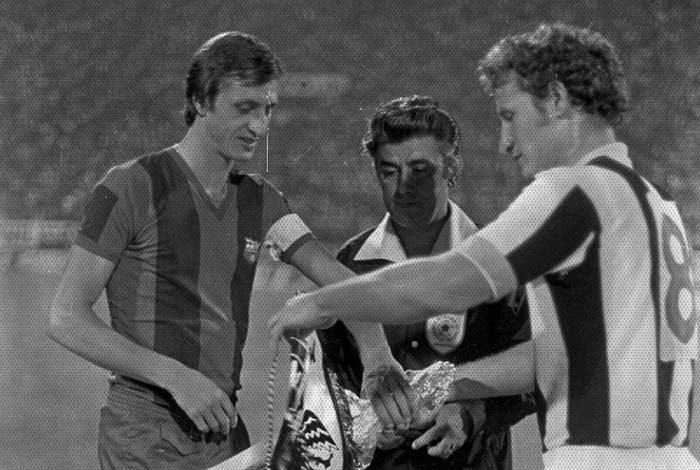 PAOK's European journey
The distinct aura of European competitions was and will always be a special motive for every footballer and for the team. PAOK's journey abroad started half a century ago, in 1965, in a competition long extinct (it ceased to exist in the early '70s) and not recognized by UEFA.
In the first round of the Inter-Cities Fairs' Cup, PAOK faced Wiener Sportklub from Austria. The maiden European match of the "Double-Headed Eagle" took place on 15 September 1965 in Kaftanzoglio Stadium and not at Toumba, due to lack of floodlights.
The visitors took the lead in the 52nd minute, but PAOK turned the tie around with goals by Giorgos Koudas (62') and Mouratidis (75'). Yugoslavian Božidar Botić refereed that first encounter. The team PAOK fielded was the following: Mouselemidis, Mitrakas, Theofanidis, Giakoumis, G.Mouratidis, A.Vasiliadis, I.Nikolaidis, L.Symeonidis, Koudas, Afentoulidis, K.Apostolidis.
In the second leg in Austria, PAOK were subjected to a 6-0 thrashing. They suffered two more eliminations (at the hands of RFC Liège from Belgium and FC Dinamo București from Romania) and then they… moved to the Cup Winners' Cup in 1972-73. They came across another Austrian outfit, SK Rapid Wien, and were eliminated on the away goal rule.
The road to the quarters
PAOK first managed to make it past a European round in the following season –and did so twice. It was their finest run to date in the European competitions, as Les Shannon' troops made it to the Cup Winners' Cup quarter-finals impressing with their displays.
The journey towards the quarters started on 19 September 1973 in Poland. They faced Legia Warszawa and couldn't count on suspended Giorgos Koudas (he was serving a two-match ban following his dismissal in the 2-2 draw against SK Rapid in Vienna). PAOK recorded a 1-1 draw at "Łazienkowska" Stadium. Christos Terzanidis broke the deadlock in the 51st minute and the Polish leveled eight minutes later. Koulis Apostolidis and Achilleas Aslanidis had their shots denied by woodwork. PAOK sealed their qualification on 3 October 1973 at packed Toumba. The decider was scored by Dimitris Paridis in the 79th minute.
Next up, Olympique Lyonnais. On 24 October 1973, at "Stade de Gerland", Lyon were held to a 3-3 draw in a spectacular encounter. They took the lead through their star player Bernard Lacombe after just 10 minutes of play. PAOK struck back with two goals by Aslanidis (44') and Terzanidis (50'). Fleury di Nallo leveled one minute later. Daniel Ravier put the home side back on the driver's seat, before Stavros Sarafis made it 3-3 nine minutes from time.
In the second leg at Toumba (7 November 1973), PAOK recorded an impressive 4-0 victory, leaving the French no room for reaction. Dimitris Paridis gave the home side the lead in the 25th minute and Achilleas Aslanidis doubled their advantage in the 38th minute netting a spot kick. Paridis was on target again in the 58th minute and Christos Terzanidis made it 4-0 to seal a historic win. The report of French newspaper L'Equipe is evidence enough of what happened that night at Toumba Stadium: "We were ready to scream: Stop the slaughter and retrieve the passports of the French. France's football should not be exported in Europe".
The quarter-finals' draw was held on 16 January 1974 and paired PAOK with title holders AC Milan –they had won the previous edition in 1973 defeating Leeds United in Thessaloniki. Back then, Milan had Gianni Rivera at their ranks along with internationals Sabadini, Schnellinger, Bianchi, Bigon, Benetti and Chiarugi. The first leg match was held in San Siro on 13 March 1974. Shannon fielded the following PAOK line-up: Chatzioannou, Chatzikonstantinou, Fountoukidis, Iosifidis, Pellios, Terzanidis, Paridis, Sarafis, Papadopoulos, Koudas and Aslanidis. Lazos took Terzanidis' place in the 43rd minute and Kermanidis came off the bench in the 80th minute to substitute Paridis.
AC Milan took the lead in the 12th minute through Bigon. Five minutes later, Sarafis scored but Maltese referee Paul Bonnet disallowed the goal on the offside rule. The Italian outfit netted twice more (Benetti and Chiarugi on target). Despite PAOK's defeat in Milan, Toumba Stadium was packed for the second leg, held on 20 March 1974. A total of 43.882 tickets were sold and the "Double-Headed Eagle" put up quite a fight against their mighty rivals. Stavros Sarafis gave PAOK the lead in the 27th minute with an impressive header. The home side missed several opportunities before Bigon leveled for Milan. Another header by Sarafis restored PAOK's advantage, but Tressoldi sealed the final 2-2 in the 77th minute.
Barcelona, Bayern and Maradona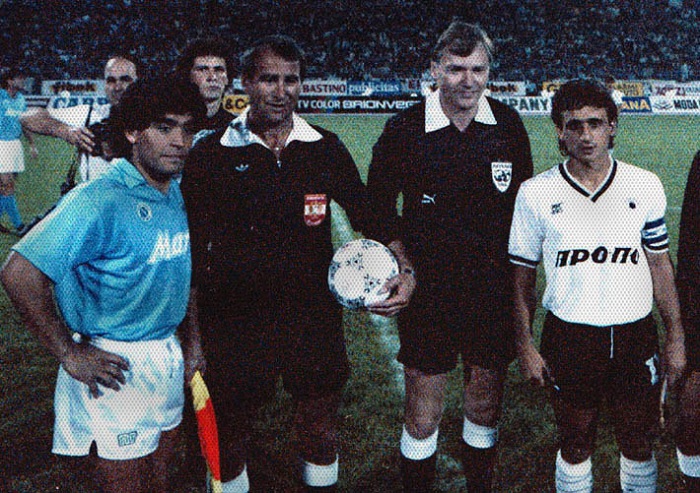 PAOK played their maiden match in the UEFA Cup in 1975. The first opponent to visit Toumba that season were mighty FC Barcelona, boasting the talents of Johan Cruyff and Johan Neeskens. However, even the Blaugrana succumbed to Toumba's power. On 16 September 1975, PAOK recorded one of the most significant victories in their European history. Gyula Lóránt's troops prevailed 1-0 thanks to a Giorgos Koudas' goal. In the second leg, at "Camp Nou", PAOK lost 6-1.
One season later, Greek champions PAOK debutized in the UEFA Champions' Cup. They eliminated AC Omonia with a 2-0 win at Cyprus and a 1-1 draw in Toumba Stadium, but were stopped on their tracks by powerful FC Dynamo Kyiv.
Gradually PAOK gained significant experience from such encounters, began recording qualifications and holding their own against traditional European forces like FC Bayern München. The encounters against the Bavarians for the UEFA Cup of 1983-84 have a special place in PAOK's Hall of Fame.
The first leg at Toumba ended in goalless draw, while the second leg in Munich's Olympic Stadium remains unforgettable to this day. After a battle of titanic proportions, the two sides faced off in a penalty shootout, PAOK eventually losing 9-8!
Five years later, and after having already come across Cruyff and Rummenigge, PAOK faced Diego Maradona, SSC Napoli's "God". The Italian side prevailed 1-0 in the San Paolo leg. Tickets for the Toumba match had been sold out one week earlier and there were no free seats on 21 September 1988, as everybody flocked to watch Diegito live. Napoli took the lead through Careca and PAOK leveled a Skartados goal. After the final whistle, Maradona raved about the magnificent atmosphere created by PAOK's faithful.
The bleak page of Paris Saint-Germain
PAOK suffered one more elimination through penalty shootout in the first round of the 1990-91 UEFA Cup. The Double-Headed Eagle and Sevilla FC couldn't break the deadlock –the Spanish sealed their passage to the following round with a 4-3 score from the spot! In 1991-92, PAOK eliminated KV Mechelen of Belgium in the first round. They faced FC Tirol Innsbruck behind closed doors, banned by UEFA for crowd trouble in the Toumba leg against KV Mechelen.
The Thessaloniki club would go on to face worse situations. PAOK were paired with Paris Saint-Germain FC in the first round of the UEFA Cup. The first leg at "Parc des Princes" marked the European debut of David Ginola, while PAOK were missing several regular players. They were reduced to ten in the 63rd minute, after Alexis Alexiou's dismissal. The French outfit prevailed 2-0 gaining a healthy advantage in the tie. The second leg at Toumba was marred by serious incidents at the end of the first half – Paris Saint-Germain were already leading 2-0 all but clinching qualification. Dutch referee John Blankenstein and UEFA Referee Observer Károly Palotai registered the referee act. On 4 October, UEFA Disciplinary Committee decided the following:
The encounter was declared as forfeited and PAOK were deemed to have lost the game 0-3.
PAOK were excluded from participating in the next UEFA club competition for which it would otherwise qualify in the following two seasons.
PAOK FC filed an appeal and managed to have their ban reduced to one year. They returned to European competition in 1997-98. The first leg against FC Spartak Trnava made it to the history books thanks to PAOK's remarkable comeback. Despite trailing 0-3 after 30 minutes of play, they turned it around and won 5-3. The fact that the Double-Headed Eagle were reduced to 10 following Spyros Marangos' dismissal made the feat all the more astonishing. In the second leg, Thodoros Zagorakis scored the solitary goal and sealed qualification to the next stage, where Arsène Wenger's Arsenal FC were waiting.
The Highbury opus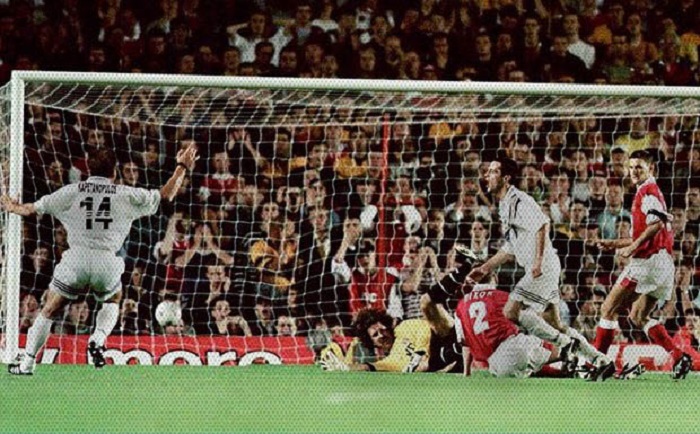 On 16 September 1997, Kostas Fratzeskos' goal decided the Toumba encounter against the Gunners and, a fortnight later, the Double-Headed Eagle created a huge upset in "Highbury". Arsenal cancelled out the first-leg's result through a goal by Dennis Bergkamp in the 22nd minute and applied pressure to score a second goal. However three minutes from time, Zisis Vryzas leveled to 1-1 with a powerful shot sealing a historic qualification over Arsenal, who would go on to win the domestic double that season. The ties against Club Atlético de Madrid would follow –the 4-4 draw at Toumba remains unforgettable.
In the following years, PAOK would continue their European journey without fail. On 16 September 1999, they recorded their largest victory in the European Cups, a 7-0 over Lokomotivi Tbilisi. In 2001-02, they defeated 1.FK Příbram 6-1 –along with this season's 6-1 win over FC Dinamo Minsk, these are the largest European victories at home.
Qualification in Istanbul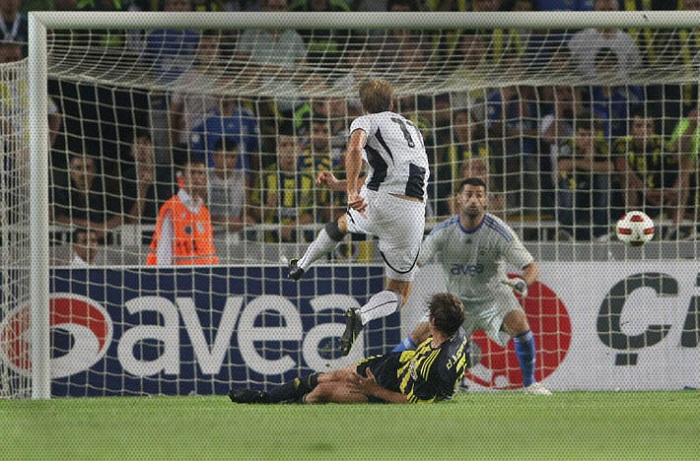 In 2010-11, PAOK were paired with AFC Ajax in the UEFA Champions League qualifying stage and just missed out on a spot in the play-offs. After a 1-1 draw in Amsterdam, they were held 3-3 in Toumba, the Dutch side qualifying on the away goals rule. PAOK transferred to the UEFA Europa League play-offs where they recorded one of their most significant accomplishments ever.
The Double-Headed Eagle defeated Fenerbahçe SK in Thessaloniki, with a solitary goal by Vieirinha. At "Şükrü Saracoğlu" Stadium, Fener leveled the tie, forcing extra time. Zlatan Muslimović shocked the home crowd to hand PAOK qualification to the group stage. They were drawn in the same group with Villarreal CF, GNK Dinamo Zagreb and Club Brugge KV and managed to make it to the knock out stages. There, they succumbed to PFC CSKA Moskva (0-1, 1-1).
That win in "White Hart Lane"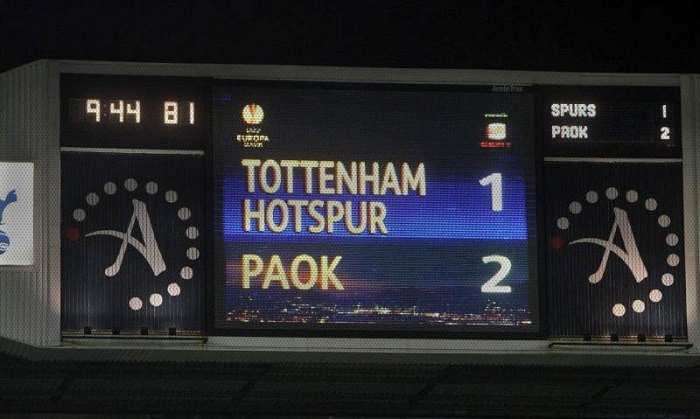 PAOK would return to the UEFA Europa League group stage in the following season, after seeing off Vålerenga Fotball and FC Karpaty Lviv in the qualifiers. The Double-Headed Eagle topped a group consisting of Tottenham Hotspur FC, FC Rubin Kazan and Shamrock Rovers FC. Their 2-1 win over the Spurs in "White Hart Lane" stood out. In the last 32, they couldn't overcome the hurdle of Udinese Calcio.
The "Champions' League" Project
The 2012-13 season was a bad interval –PAOK were ousted early by SK Rapid Wien. In the following season, they started their journey in late July, against FC Metalist Kharkiv. The Ukrainian side were expelled from the competition by UEFA due to their implication in fixed encounters at home. PAOK took their place in the UEFA Champions League play-offs to face FC Schalke 04.
Thanks to a spectacular goal by Miroslav Stoch, PAOK earned a 1-1 draw at Veltins Arena in Gelsenkirchen. Qualification was decided behind closed doors at Toumba. The Thessaloniki outfit put on a huge effort, cancelled Schalke's lead twice and tried to score a third goal that would seal their maiden participation in the UEFA Champions League group stage. However they failed to convert their chances, allowing the Germans to score at stoppage time. PAOK transferred to the UEFA Europa League.
PAOK were drawn in the same group as AZ, Maccabi Haifa FC and FC Shakhter Karagandy. Huub Stevens' pupils secured their passage to the knock-out stage undefeated –they recorded two wins (2-1 over Shakhter and 3-2 over Maccabi) and one draw at home (2-2 with AZ) and two draws (0-0 with Maccabi and 1-1 with AZ) and one victory away from Toumba (2-0 over Shakhter). PAOK finished second in their group and were drawn to play against SL Benfica in the last 32 stage of the competition. The first leg was held at Toumba and the Lisbon outfit edged out a 1-0 win through a goal by Lima that should have been disallowed on the offside rule. At "Estádio Da Luz", the Double-Headed Eagle fought hard for 70 minutes chasing after a famous comeback. But at some point they ran out of ideas and stamina and that is when Benfica's superior quality became evident, the Portuguese rushing to a 4-0 win.
In the current season, PAOK eliminated FC Zimbru Chișinău to qualify for the UEFA Europa League group stage, but failed to continue their streak of participations in the round of last 32. They played against ACF Fiorentina, EA Guingamp and FC Dinamo Minsk. They defeated the team from Belarus twice, got a 1-1 draw at "Artemio Franchi", but lost twice to the French team and were confined to third place of the group.
Borussia Dortmund yield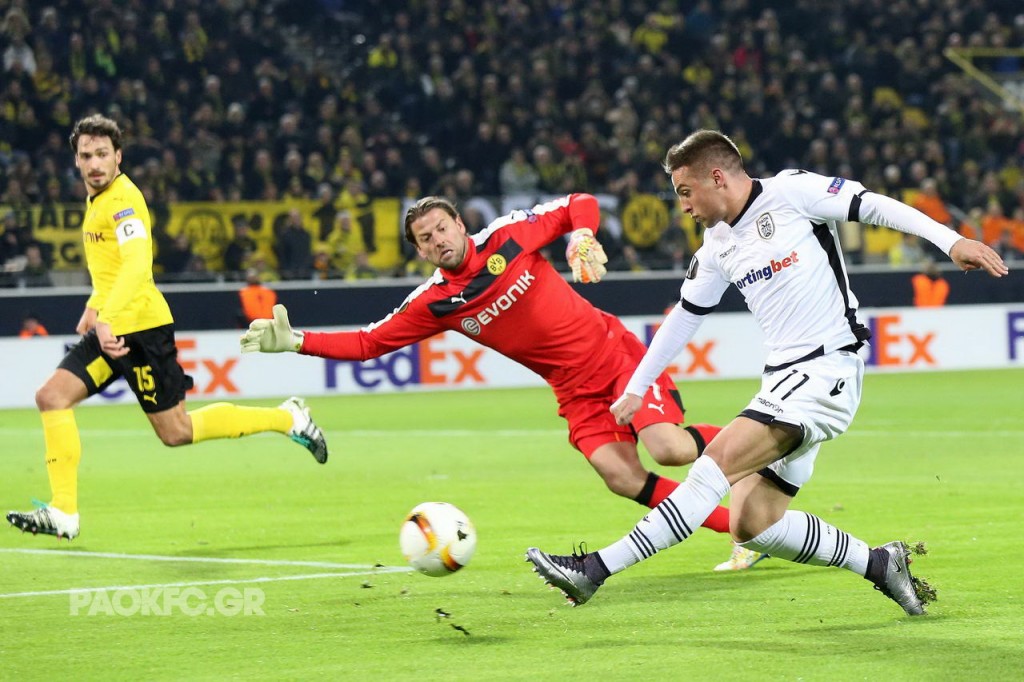 In 2014-15, PAOK were paired with FC Zimbru Chișinău on their way to the UEFA Europa League group stage. Despite losing 1-0 in Moldova, they qualified comfortably thanks to Toumba power in the second leg. In the group stage, they were drawn against ACF Fiorentina, EA Guingamp and FC Dinamo Minsk. They defeated the team from Belarus twice, got a 1-1 draw at "Artemio Franchi", but their two home defeats spelled elimination.
The summer of 2015 signaled a weird and tough period for the team. For the first time ever, PAOK had to negotiate a three-round UEFA Europa League qualifying campaign. They played their first encounter in mid-July. Without proper preparation and fielding a different squad from round to round due to roster changes, Igor Tudor managed to steer his troops away from trouble. NK Lokomotiva Zagreb caused PAOK fans a bit of stress with their 2-1 win in the first leg, but crashed and burned in Toumba (6-0). FC Spartak Trnava put on a decent fight, but couldn't overcome PAOK's hurdle (1-0, 1-1). As for Brøndby IF, they were overwhelmed in packed Toumba, losing 5-0, Róbert Mak netting a hat-trick. The second leg was just a formality (1-1).
PAOK had no luck in the UEFA Europa League group stage draw, landing in a group with Borussia Dortmund, FC Krasnodar and Qäbälä FC. They had no luck on the pitch either. Mere details saw them lose to all three rivals in their first matches and, by the time they visited FC Krasnodar in Russia, they had their back against the wall. Despite their unsuccessful journey, PAOK boast a huge victory in Germany over Borussia Dortmund. With nothing to play for but their prestige, the "Double-Headed Eagle" proved their might and recorded one of the most important wins of their European history.
PAOK personality and character
Winning the 2015-16 Super League play-offs allowed PAOK the opportunity to chase after the UEFA Champions League dream. They were paired against old acquaintances: AFC Ajax. The "Double-Headed Eagle"  took the lead in "Amsterdam Arena" with Djalma Campos, but left Netherlands with a 1-1 result. In Thessaloniki, AFC Ajax's luck was uncanny. With just one attempt on goal in 90 minutes, they managed to prevail 2-1. PAOK performed very well, but were deprived of qualification because of their poor finishing, wasting glorious opportunities to take a 3-0 lead in the first half-hour.
PAOK continued their European journey in the UEFA Europa League group stage, eliminating FC Dinamo Tbilisi in the process. They were drawn against ACF Fiorentina, FC Slovan Liberec and Qarabağ FK. The goalless draw against the 'Viola" in Toumba Stadium and the 2-1 victory in the Czech Republic made PAOK comfortable in their group, but back-to-back defeats by Qarabağ FK spelled trouble for the "Double-Headed Eagle". The troops of Vladan Ivić however managed to secure their qualification to the knock-out stages thanks to their tough character and personality. They won 3-2 in Florence thanks to a buzzer-beater by Garry Rodrigues and defeated FC Slovan Liberec 2-0 at home.
PAOK were drawn against FC Schalke 04 in the last 32 stage. The "Royal Blues" were cynically effective and prevailed 3-0 in Toumba Stadium. PAOK's remarkable effort in the second leg of "Veltins Arena" wasn't enough to lead them to a total comeback.