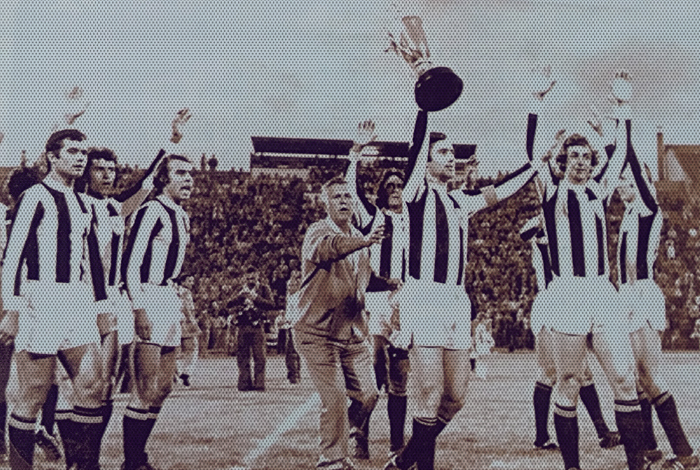 At the top of the Greek Championship
Greek clubs were permitted to acquire foreign players for the first time in the summer 1974. In his fifth season at PAOK, Les Shannon picked Brazilian forward Neto Guerino and then opted for a goalkeeper, as the "Double-Headed Eagle" were suffering in that position. Swiss international René Deck was the chosen one and PAOK went on to pay 2,7 million drachmas to sign him from Grasshopper GZ.
September of 1974 was far from ideal for PAOK. They kicked off their league campaign with a 2-0 defeat by Panachaiki at Patras. They got eliminated from European competition in early October losing to FK Crvena Zvezda in Belgrade and then lost 2-1 to Aris at Charilaou, despite taking the lead. Les Shannon was not seeing eye-to-eye with the administration members any more and left for England. In his letter of resignation, he wrote: "This is a very unpleasant day for me, as I part ways with PAOK".
Veteran goalkeeper of PAOK, Lakis Progios, took over as interim coach for six fixtures, until 10 December 1974. Guyla Lóránt landed at Thessaloniki, while Greece was still celebrating the abolishment of monarchy following the plebiscite of 8 December. Taking over from Les Shannon was no easy task. Apart from the time needed for the administration to reach the decision on the Englishman's successor, the transition period was quite tough for everyone. Guyla Lóránt oversaw his first PAOK match on 15 December 1974 when they defeated Olympiacos 2-0 to approach top spots of the standings.
In 1974-75, PAOK were a tough nut to crack in the high-profile encounters, but conceded points in their province matches and were made to pay for it. They improved however on their free-scoring ability, while Guyla Lóránt got to know his troops and their potential.
In the summer of 1975, Deck returned to Switzerland and Lóránt requested the signing of Mladen Furtula, who was fresh out of an impressive season at the ranks of Panserraikos. He had played in 34 encounters and conceded 36 goals, a very decent stat for a team that finished 12th in the standings, having tasted victory just 7 times.
In the summer friendlies, PAOK had mediocre results and lost to Olympiacos and Panathinaikos at home. After a considerable delay, the league kicked off on 5 October with PAOK prevailing 3-1 over Panathinaikos at Toumba. The Thessaloniki derby at Charilaou against Aris ended in goalless draw. On matchday 3, PAOK were scheduled to face Panetolikos at Toumba. However Elefsina had filed a complaint before the Greek Federation protesting the promotion of the Agrinio outfit in the top flight league, resulting to the postponement of the encounter. PAOK were made to chase after the rest of the pack with a game in hand.
AEK had already taken the lead in the standings while Olympiacos and Panathinaikos gave several points away, permitting PAOK to reduce distances. On matchday 11, after a confidence-boosting 4-0 victory at "Karaiskakis", the "Double-Headed Eagle" caught up with Panathinaikos in second place of the table. The end of the first round of fixtures saw AEK at the top of the standings with 25 points, PAOK were three points behind (22), while Panathinaikos (20), PAS Giannina (19) and Olympiacos (19) were trailing.
PAOK drew 1-1 with Panathinaikos at Leoforos and conceded a 2-2 draw to Aris at Toumba, permitting AEK to open the breach. A streak of consecutive victories until matchday 22 kept PAOK in sight. They managed to overcome -rather harmlessly- a crisis produced during the matchday 19 encounter against Apollon Smyrni at Rizoupoli. Stavros Sarafis netted the opener after just 5 minutes of play with a fine header, but PAOK couldn't find a second goal to sentence the encounter. On the bench of the "Double-Headed Eagle", Gyula Lóránt had an altercation with administration members Kalafatis and Petridis. A few days later, PAOK were scheduled to face Olympiacos for the Greek Cup at Karaiskakis and the team stayed in Athens to avoid trips back and forth. After the Rizoupoli incident, Lóránt returned to Thessaloniki and his assistant Michalis Bellis took over the reins for the Olympiacos match. The "red-and-whites" qualified on a penalty shoot-out (6-5).
On Friday 12 March, after series of deliberations and two assemblies of the Directors' Board, PAOK announced that Gyula Lóránt would remain at the helm. Kalafatis and Petridis would also remain on board, but under the condition that nobody would interfere any more with the coach's job, as expressly stated in his contract. Three consecutive victories kept the distance from AEK intact, before it increased on 4 April after the 2-2 draw at Kastoria. The tide would turn around in less than a week though, as PAOK won their postponed game against Panetolikos and then went on to defeat Panionios 4-0 on 11 April. They climbed at the top of the standings for the first time that season, level on points with AEK who lost 1-0 to Panathinaikos.
On matchday 25, AEK were defeated 1-0 by Aris in Thessaloniki and PAOK, winners 3-0 over Panachaiki, were alone at the top of the standings. The league title would be decided in two consecutive high-profile encounters at Toumba. PAOK prevailed 3-1 over Olympiacos and then Guerino scored the only goal of the match against AEK in the 89th minute, giving the "Double-Headed Eagle" a four-point cushion with three matches to go until the end. The league title was all but guaranteed on the following matchday, when AEK were held to a goalless draw at Serres and PAOK defeated Iraklis at Kaftanzoglio (3-1). The 2-1 loss to Atromitos had nothing but statistical value, as it put a stop to PAOK's undefeated home record. The league was sealed with a 4-0 victory over Ethnikos at "Karaiskakis".