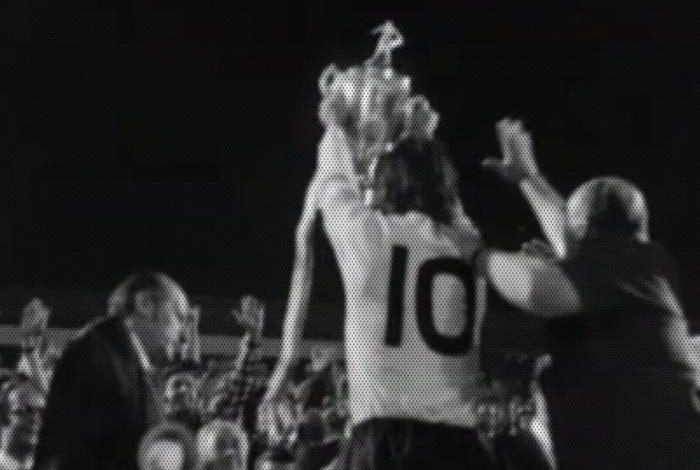 Cup Winner 1974
"I will never forget the day that Shannon arrived at Thessaloniki… We would work under an English coach for the first time. We were buttoned up. They were rumored to be strict, typical, demanding, leaving no room for easing off and a few laughs… Living in Thessaloniki changed Les Shannon. He adopted bits of Greek mentality, but then we also became a bit English ourselves". In his biography, Giorgos Koudas reminisced about the reception Shannon got from his players when appointed at PAOK and his impact on them throughout the years. In the summer of 1973, the English tactician had already been at the helm of the team for more than two-and-a-half seasons and had made them believe in themselves: "He knew the way to boost our self-confidence. It's no easy feat to tell a player: 'Look, you are on the same pitch and have the same goal as Rivera or Beckenbauer. We want what he wants. He is a rival, but don't fear him. Look him in the eyes and try to be like him or even better'", Koudas wrote.
PAOK players had no reason to doubt their own abilities. After four consecutive participations in the Greek Cup final and one trophy in their cabinet, they knew their exact place in Greek football. Les Shannon did not confine himself just to talks in order to boost their morale, but would also arrange for high profile friendly encounters against renowned opponents such as AFC Ajax, Leicester City FC, MTK Budapest FC, VfB Stuttgart. The Englishman wanted to prove to his troops that they had nothing to be envious of.
PAOK had high quality back then. Before signing for the "Double-Headed Eagle", Panagiotis Kermanidis had watched them in a friendly encounter and he got worried that he wouldn't be able to become starter in such a squad. Time proved him wrong, as he conjured up 6 goals in 21 league matches, adding 4 goals in as many Greek Cup games.
PAOK kicked off their Greek Cup campaign on the day following Christmas Day. They eased past Kastoria with a 5-0 victory, proving their potential against the newly promoted "furriers". PAOK players didn't enjoy any Christmas holidays that season. There was no break in action. After their 1-0 loss to Aris on 23 December 1973, they played against Kastoria and afterwards travelled to Athens for their encounter versus Apollon Smyrni at Rizoupoli. They won that one 1-0, thanks to a Paridis' spot-kick in the 15th minute.
In the competition's second round, PAOK were drawn against Nea Moudania, an outfit on their second season at Greece's second tier. The "Double-Headed Eagle" needed to blow off steam after their away draw at Volos with local Olympiacos. Nea Moudania proved the ideal scapegoat and were on the receiving end of a 7-2 thrashing, with a hat-trick by Giorgos Koudas and a brace by Dimitris Parids. PAOK focused on the Greek Cup and that became evident as the season progressed –they failed to win any league match preceding a Cup encounter.
In the last 16 stage, PAOK saw off AEK rather comfortably in a match held at Toumba. Lakis Nikolaou replied to Paridis' opener –a development that proved short-lived, as Aslanidis and Sarafis' second half strikes sealed the 3-1 win for the Thessaloniki side. In the quarter-finals, two goals by Kermanidis handed PAOK qualification at the expense of Egaleo, to set up an –eventually- tricky semi-final against Pierikos.
The loss to Aris at Charilaou, the "five encounters in ten days for PAOK's international players" (as Shannon pointed out) and the downbeat mood for the "Double-Headed Eagle's" considerable distance from top spot in the league standings resulted to a disappointing attendance in the semi-final against Pierikos at Kaftanzoglio Stadium. Pierikos boasted 4.000 fans in the stands, considerably more than PAOK's faithful. The former strongly contested some refereeing decisions and were disappointed to see Stavros Sarafis head the winner in the 88th minute. PAOK sealed their passage to the Nea Filadelfia final. Second-tier Pierikos were after a miracle –their participation in the competition's trophy showdown-, but "Caesar" put the game to bed before an extra time was needed. By making it to the final, PAOK also were guaranteed of a spot in the following season's UEFA Cup Winners' Cup, as fellow finalists Olympiacos (they eliminated Aris) had all but sealed the league title at that point.
The 1973-74 Greek Cup final was held at Nea Filadelfia on Sunday 16 June (while the 1974 World Cup was on in Germany…) and was the first ever to feature a pre-match ceremony. Les Shannon, due to his English football culture, had acquired special kits for his players to wear in the final –also a first time experience in Greek football.
It was a scintillating contest and kept fans on the edge of their seats until its dying seconds. Olympiacos took the lead after 20 minutes of play through Yves Triantafyllos. Iosifidis saw his thunderous belter crash against the crossbar. Paridis eventually got the equalizer in the 51st minute, set up by Koudas. In the 66th minute, Gounaris' handed the ball in PAOK's area and the referee pointed towards the spot kick. Giannis Stefas denied Karavitis at that crucial moment. Seven minutes later, at the opposite side of the pitch, Paridis charged into Olympiacos' area and was brought down by Viera. Aslanidis took the resulting penalty and fired the "Double-Headed Eagle" into the lead. Kritikopoulos turned in his header to make it 2-2 in the 82nd minute, forcing extra time. Nothing of significance happened in the next 30 minutes and a penalty shoot-out would determine the winner. Olympiacos' Poupakis and Persidis missed their chances, as did PAOK's Koudas. Koulis Apostolidis showed his character with a nerveless spot-kick, the last of the procedure, and celebrated wildly PAOK's second Greek Cup title.