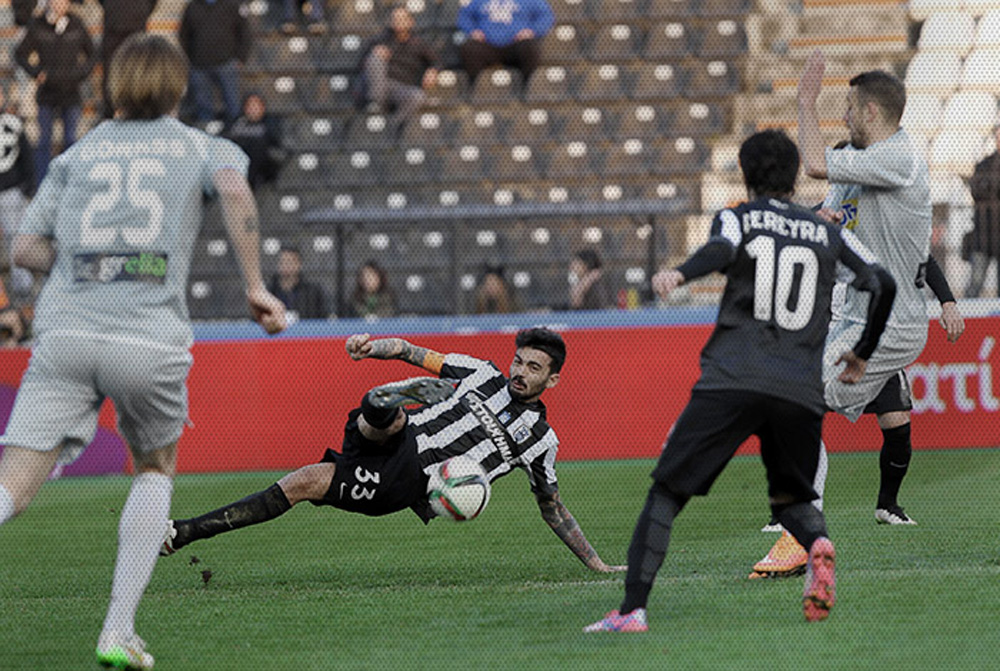 PAOK prevail over stress and referee
PAOK wanted and needed to record a victory at Toumba Stadium after a long time. On the day of Giorgos Georgiadis' debut at their helm, they prevailed 1-0 over Ergotelis who finished the match with just one shot!
The new tactician of the "Double-Headed Eagle" made minor changes and opted for a 4-4-2 formation. Despite the lack of pace in the match, PAOK stormed out of the blocks. Róbert Μak had a shot denied by woodwork, Stefanos Athanasiadis wasted numerous chances for the opener, while the team were not bothered at the back. As the first half unfolded, they took the foot off the throttle. Meanwhile Răzvan Raț limped out of the encounter just before the interval, Dimitris Konstantinidis taking his place on the pitch.
Things didn´t change dramatically in the second half. PAOK were in control (almost 70% ball possession), carved out some chances but couldn't find a way through the defensive wall erected by Ergotelis' players, nor get past referee Kominis who would signal everything therefore disrupting match pace, and he made some grave errors. In the 66th minute, there is a good chance that Ergotelis' defender cleared the ball off the line with his hand. As for the penalty on Athanasiadis in the 87th minute, it's a no brainer and should be awarded on the spot.
Things could have gotten really complicated for PAOK, had not substitute Dimitris Papadopoulos demonstrated his class in the 84th minute teed up by Konstantinidis. Papadopoulos wasted a great opportunity for a brace during stoppage time, when his shot in front of an empty goal landed on the post.
These three points won on Wednesday boost the team's confidence. As for the gaps witnessed, they show there is work to be done until the play-offs. The negative aspect of the evening was the injury sustained by Ricardo Costa who was taken off the pitch with a stretcher, while Răzvan Raț sustained a groin injury.
PΑΟΚ: Itandje, Raț (Konstantinidis 42′), Costa (Papagiannopoulos 80′), Vítor, Skondras, Τziolis, Νoboa, Golasa, Pereyra (Papadopoulos 70′) , Mak, Athanasiadis.
Ergotelis: Kavousakis, Pitsos, Tzanakakis, Gorkšs, Louvion, Gentzoglou (Solari 88′), Chanti (Calé 72′), Boé-Kane, Houla, Chalkiadakis, Οlaitan (Djilas 67′)