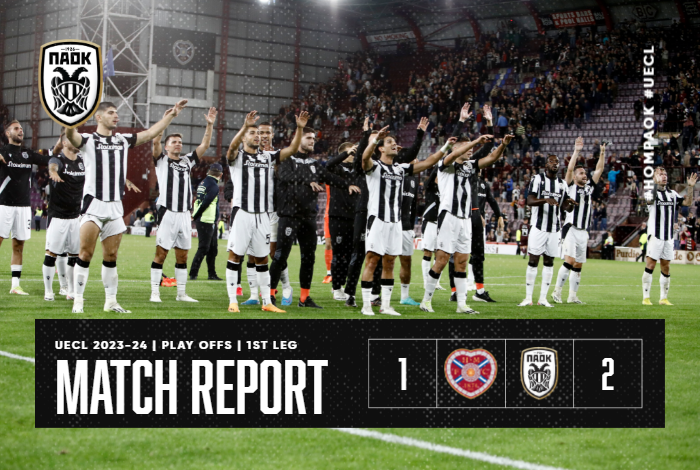 Comeback win and advantage PAOK
Despite finding themselves a goal down in front of a raucous home crowd, Razvan Lucescu's PAOK stood up to the challenge and pulled off a great comeback win, defeating Hearts 2-1 at their Tynecastle Park home to claim an important advantage in the battle to qualify ahead of the second leg at the Toumba.
Despite the fact that the first few minutes of the match were just both sides feeling each other out, there were two goals. It was the hosts who took the lead with a penalty kick converted by Shankland in the ninth minute, with PAOK responding immediately within three minutes via a penalty of their own. Andrija Živkovic was brought down in the box, and Stefan Schwab coolly slotted home from the spot to make it 1-1.
The game saw both sides putting in tackles and cancelling each other out, with scoring chances at a premium. Kotarski was there when the team needed him, but the Double-headed Eagle's attacking line did not manage to many find corridors towards the opposing goal, and so the scores remained 1-1 at half-time.
The pattern of the match did not change in the second half. Long balls, countless duels all over the pitch, especially in the air, some tough marking, and a lot of passion from both sets of players. But the team that had the essence of control was PAOK.
With an excellent corner kick routine, Andrija Zivkovic received the ball and took a stride towards goal before unleashing a powerful shot from outside the penalty area into the botton right corner of the home goal, making it 2-1 to PAOK in the 75th minute. And despite some late pressure from the hosts, that is how the scoreline remained up until the final whistle, giving PAOK the advantage in the race to qualify.
Team lineups:
Hearts: Clarke, Atkinson, Kent, Rawls, Kingsley, Devlin, Vargas (Oda 89′), McKay (Lowry 65′), Cochrane (Simping 85′), Boyce (Tagawa 85′), Shankland (Offia 89′).
PAOK: Kotarski, Kedziora, Ekong, Koulierakis, Rafa Soares, Schwab, Tsingaras, A.Zivkovic, Taison (Narey 79′), Konstantelias (Murg 70′), Brandon (Tzimas 88′).