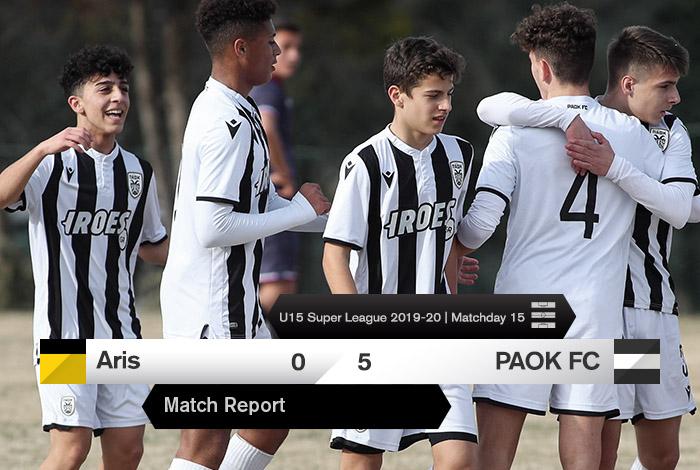 Five-star Under-15's demolish Aris
Twenty minutes were all that were needed for the Under-15 side to wrap up victory against Aris. Alexiadis and Hagan's side team were unstoppable in the second half, defeating their Thessaloniki neighbors 5-0 at Triandria, chalking up their 12th win in 12 Super League games.
On 50 minutes Ganopoulos opened the score from the rebound following an effort from Varela . Just four minutes later it was 2-0 when Adam found Goumas to score, then on the hour mark it was Adam's turn to get his name on the scoresheet after an assist from Ganopoulos. Then, three minutes later, Ganopoulos got his second of the game with a fine individual goal to make it 4-0, before Koutsioudis headed in the fifth eight minutes later.
PAOK lineups:
Aggelidis, Georgiadis (65′ Panagiotidis), Deligiannis, Taxiarchis, Pasachidis, Kastidis, Adam (70′ Pekridis), Kottas (65′ Aleiferopoulos), Varela (65′ Koutsioudis), Goumas (70′ Lekka), Ganopoulos.