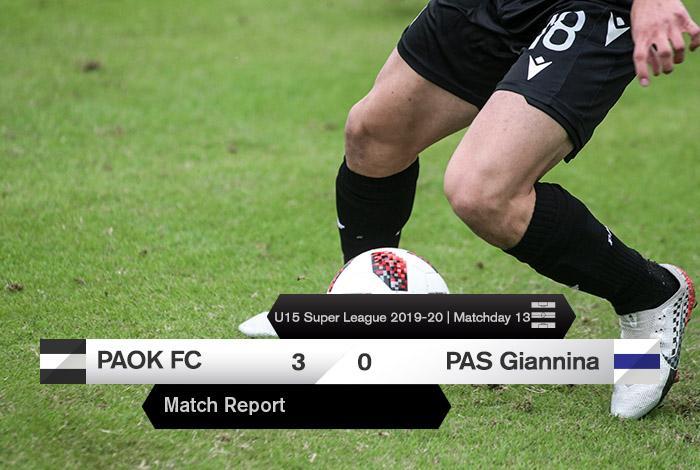 Under-15's cruise to 3-0 win over PAS Giannina
PAOK's Under-15 team stretched their lead over Xanthi at the top of the table to 15 points on Sunday after recording a 3-0 home win over PAS Giannina at Souroti, giving them a perfect record of 10 wins in 10 matches.
PAOK was by far the better side, showing decisiveness and creativity, wrapping up another three-point haul in impressive fashion which could have seen the Dikefalos tou Vorra win by an even greater margin. Ganopoulos opened the scoring after 20 minutes following an assist from Adam. Then in the 35th minute it was Varela's  turn to get his name on the scoresheet, collecting a pass from Panagiotidis before applying the finish. The final strike came after 70 minutes when Koutsioudis converted a pass from Vasiliadis.
PAOK line-up:
Nikolakoulis, Panagiotidis (65′ Ignatiou), Deligiannis, Taxiarchis, Pasachidis, Kastidis, Adam, Pekridis (60′ Aleiferopoulos), Varela (65′ Koutsioudis), Ganopoulos (65′ Vasilidis), Goumas (65′ Lekkas).