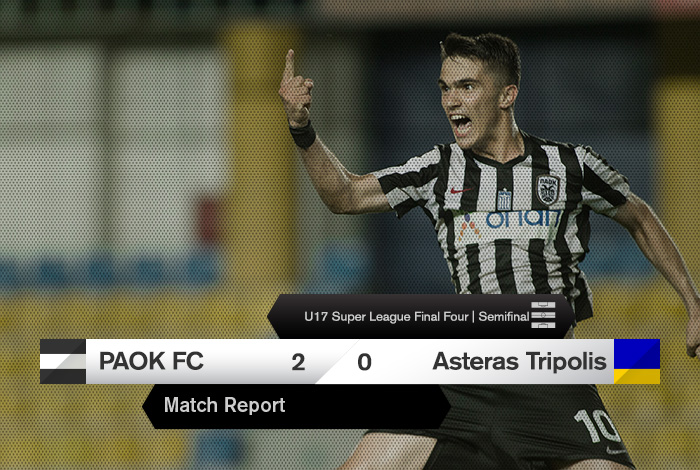 PAOK U17s reach Super League final
PAOK got a deserved victory, despite getting the lead through pure luck. The players of Alexis Tasoulis and Thanos Kourtoglou were the ones to play attacking football, create chances, look for the opportunities to score. With combination moves, charges from the flanks and pressure high up the pitch, they forced the defence of Asteras into a series of errors.
One of them led to the opener. In the 27th minute, Kapetanos's clearance was rather scrappy, the ball was deflected off Chatzidimpas's back and landed at the back of the net. The goal brought Asteras's players out of their nap and they went on to create two great chances to equalize in the following three minutes, their only ones in the game. But Siampanis was impressive and saved both attempts (29', 30'), keeping PAOK in the lead.
After the interval, PAOK handled their lead and the understandable fatigue that is normal at the end of the season for these 16-year olds. The "Double-Headed Eagle" conceded space to Asteras, but the Arkadia outfit failed to create any danger despite being rather physical in their manmarking. That led to Ζisis's dismissal in the 63rd minute on a second bookable offence. Four minutes later, PAOK made their numerical superiority count, as Chatzidimpas scored his second of the evening following build-up play by Koutousis.
PΑΟΚ: Siampanis, Papathanasiou, Charalampidis (46' Argyriou), Liaptsis, Paspalas (63' Dimitriou), Kyrillidis, Κoutousis (68' Κapretsos), Kligopoulos, Κonstantinou, Chatzidimpas (72' Νoukaris), Mattheou (58' Εfthymiou).
Asteras Tripolis: Kapetanos, Tsekos, Voutselas (75' Tsiosis), Ζisis, Gitsis (82' Georgopoulos), Kontogiannopoulos, Karamitos, Natsis (72' Glezos), Papageorgiou, Tsiolis, Kyriakopoulos (68' Papageorgiou)