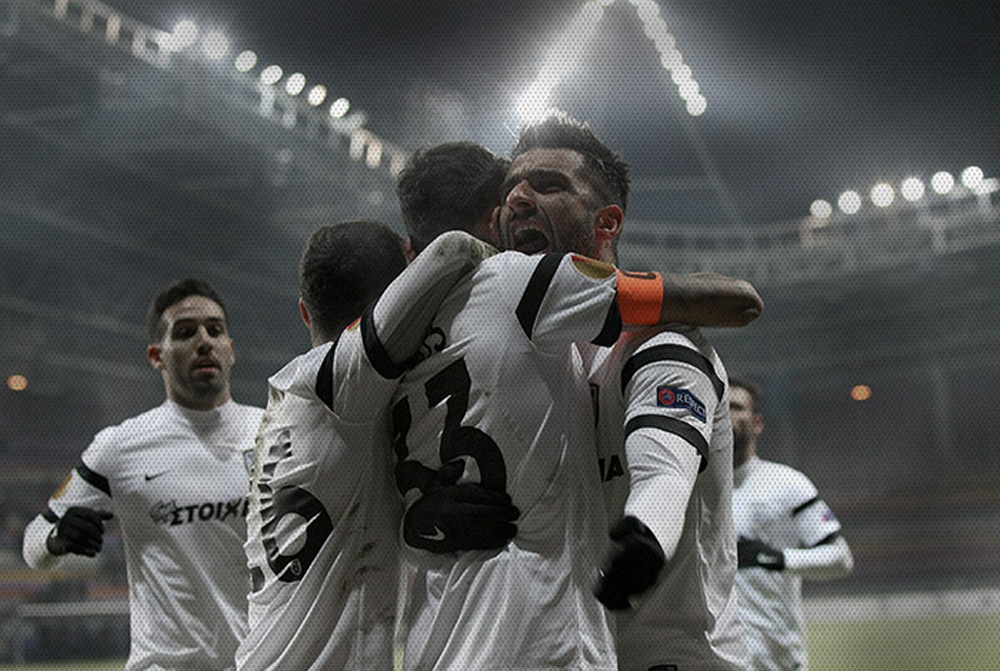 PAOK got their pace back…
PAOK took the honours in Belarus, prevailing 2-0 over Dinamo Minsk for the UEFA Europa League. Thanks to this important three-pointer and to the simultaneous 1-2 home defeat of EA Guingamp at the hands of section leaders ACF Fiorentina., the "Double-Headed Eagle" have kept their fortune in their hands. They just need to defeat the French side at Toumba on the last matchday of the group stage, in order to secure their presence in European competition in February.
The final result suggests a comfortable victory, but PAOK players were made to work hard, especially after a three-week lack of competition. Moreover they were called to gain pace and intensity on an icy pitch with temperatures stuck at -7 degrees. That proved an especially tough task –for 70 minutes, PAOK were far from their usual pressuring, dominating and creative version.
The «Double-Headed Eagle» carved out just four chances to score in the first half, the biggest ones coming from Stefanos Athanasiadis' tight pressing on the goalkeeper and from a header by Miguel Vítor following a corner. The players of Angelos Anastasiadis failed to maintain possession. On the few occasions that they managed to hold on to the ball, they lacked their usual creativity.
The pattern remained unchanged in the first 20-25 minutes of the interval. At that point however, the players' strong personality surfaced as they managed to keep their game simple and more swift (as Anastasiadis was demanding from the touchline). They started launching numerous attacks on the hosts' goal and became increasingly dangerous. Stefanos Athanasiadis scored both goals in the last ten minutes. In the 82nd minute, he moved like an arrow at the heart of the rival defence to collect Facundo Pereyra's pin-point assist and get the opener from up close. Six minutes later, he sealed the deal with another close range finish after defenders failed to clear Ergys Kace's drive out of danger, the Albanian midfielder beautifully teed up by Pereyra. Klaus got to celebrate only his first goal. After netting the second, he fell on the ground in obvious pain –and was eventually substituted- as his rival tackled him hard in his attempt to prevent PAOK skipper from firing home.
The combined 8-1 score in the encounters against Dinamo Minsk -five of the goals scored by Athanasiadis- speaks volumes about PAOK's superiority over their Belorussian rivals. Now the Thessaloniki side will give it all on 11 December, when they host EA Guingamp in Toumba, aiming to celebrate yet another qualification to the UEFA Europa League last 32 stage.
Line-ups:
Dinamo Minsk (Zhuravel): Ignatovich, Politevich, Karpovich, Veretilo, Kontsevoi, Nikolić, Simović, Udoji (74′ Yarotski), Stasevich, Adamović, Dja Djedje (81′ Diomande)
PΑΟΚ (Anastasiadis): Glykos, Skondras, Vítor, Katsikas (28′ Tzavellas), Raț, Tziolis, Kace, Tzandaris, Pereyra, Salpingidis (46′ Golasa), Athanasiadis (89′ Papadopoulos)