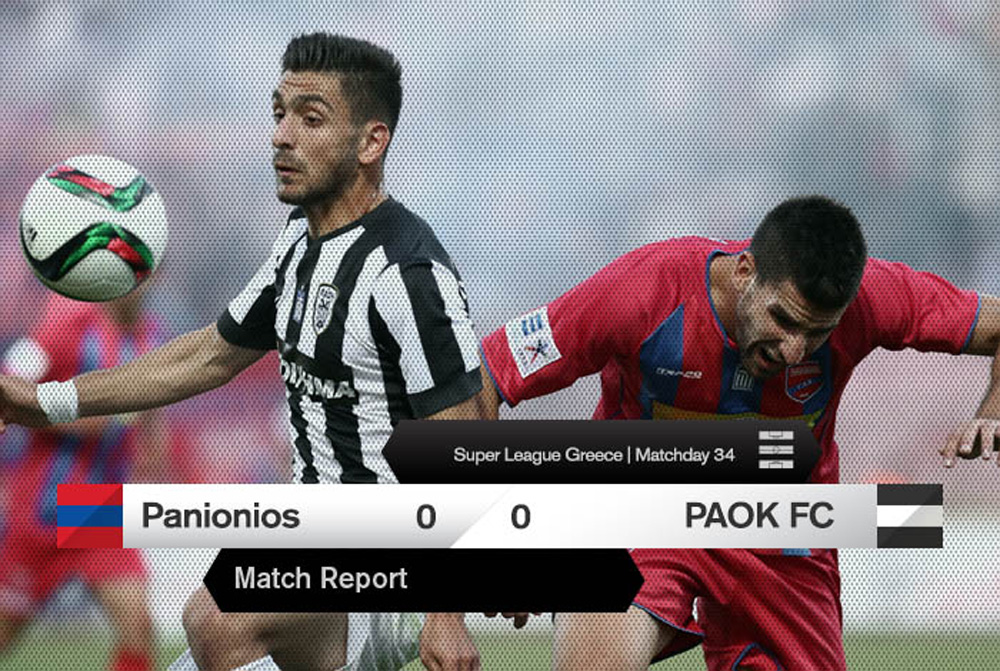 100 goalless minutes at Nea Smyrni
PAOK tried to deal with the absence of seven first-string players while aiming to finish in second place of the league by defeating Panionios who were fighting for their survival at Nea Smyrni. The goalless draw is in way reflects the effort of "Double-Headed Eagle's" players. PAOK didn't score, but at least managed to "activate" four footballers who claimed the Super League U20 title last season: Stelios Pozoglou, Kyriakos Savvidis, Panagiotis Deligiannidis and Efthymis Koulouris.
The Thessaloniki outfit were more lively in the beginning of the encounter and were causing all sorts of problems to Panionios with Pozoglou from the left flank.
In the 19th minute, Stelios Kitsiou charged forward but was intercepted. Four minutes later, a Dimitris Papadopoulos –Facundo Pereyra combination concluded with a weak shot of the Argentinian. Pereyra was at the centre of proceedings in the 33rd minute as well, when he invaded the area from the right evading his rivals, but his cross was cleared by Panionios' defence.
In that same play, Dimitris Papadopoulos pulled a muscle and was substituted by Efthymis Koulouris.
Panionios came close to an opener in the first half, when Bakasetas teed up Giannou, but the latter's powerful header went wide. After the interval, the Nea Smyrni outfit nearly scored with Chatziisaias's header in the 64th minute.
Five minutes later, Tasoulis was cautioned for a strong tackle on Kitsiou and his ironic applause to the referee earned him a second booking, leaving Panionios with 10 players on the pitch.
In the last 20 minutes, PAOK failed to create substantial danger in Panionios' box, accusing the absence of seven first-stringers such as Stefanos Athanasiadis, Christian Noboa, Róbert Mak, Ricardo Costa, Dimitris Salpingidis, Dimitris Konstantinidis and Eyal Golasa.
«In the first half we created some opportunities to score. In the second half, when our rivals were reduced to ten, they defended in numbers making our job even harder», PAOK assistant coach Nikos Oustabasidis said.
Panionios players resulted to time wasting with all means available to them –even the most incredible ones. Their aim was to get informed of the results in other matches of interest, in their effort to avoid relegation, and at the same time "destroy" any chance of decent football in the last ten minutes of the encounter and the added 10 minutes of stoppage time.
Line-ups:
Panionios: Papadopoulos, Tasoulis, Ikonomou, Chatziisaias, Argyropoulos (46' Vlachos), Korbos, Mitropoulos, Boumale, Kolovos (32' Giannou), Fountas, Bakasetas.
PAOK: Itandje, Skondras (87' Deligiannidis), Raț, Vítor, Tzavellas, Kace, Kitsiou (74' Savvidis), Tziolis, Pozoglou, Pereyra, Papadopoulos (36' Koulouris).