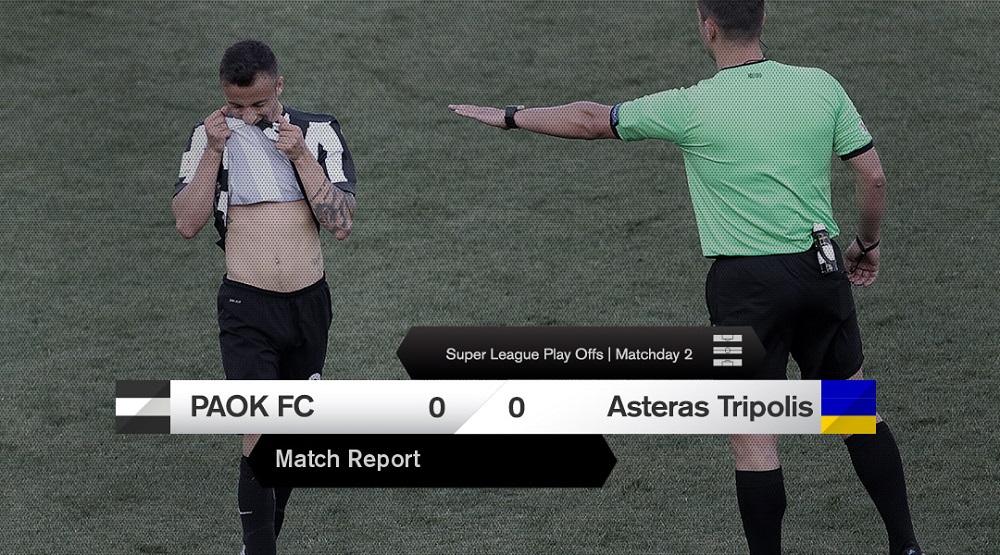 When luck turns its back…
Giorgos Georgiadis's troops fired on all cylinders right from the start, Róbert Mak, Facundo Pereyra and Dimitris Papadopoulos trying to combine in order to break through the defensive wall of Asteras Tripolis. Mak wasted a one-on-one opportunity to get the opener and then had a shot on woodwork. He would also register a penalty awarded on his record, had referee Mantalos not waved "play" after the Slovakian was brought down. Ergys Kace also came close to breaking the deadlock as his shot grazed the post.
Asteras Tripolis retreated even more in the second half, making PAOK's job harder. However the home side kept their tempo thanks to Alexandros Tziolis's efforts to mix it up by vertical passing or switching pace. PAOK defence meanwhile were rarely bothered. The "Double-Headed Eagle" managed to carve out 17 efforts to score, among them another shot on woodwork (Efthymis Κoulouris), bad decision-making and an unbelievable wasted opportunity by Stelios Pozoglou. The latter stole the ball from Sankaré in the six-yard box and, with goalkeeper Theodoropoulos out of the picture, he managed to miss!
This goalless draw leaves the Thessaloniki outfit with just 4 points in the standings. The upcoming back-to-back encounters against Panathinaikos are the best chance PAOK have to claim top spot in the play-offs.
Line-ups:
PΑΟΚ: Itandje, Raț, Costa, Tzavellas, Kitsiou, Tziolis, Noboa (79′ Κ.Savvidis), Mak (72′ Pozoglou ), Kace, Pereyra, Papadopoulos (60′ Koulouris ).
Asteras Tripolis: Theodoropoulos, Panteliadis, Lluy, Sankaré, Goian, Kourbelis, Iglesias, Mazza (87′ Zisopoulos), Badibanga (84′ Tsokanis), Rolle (75′ Fernández), Barrales.