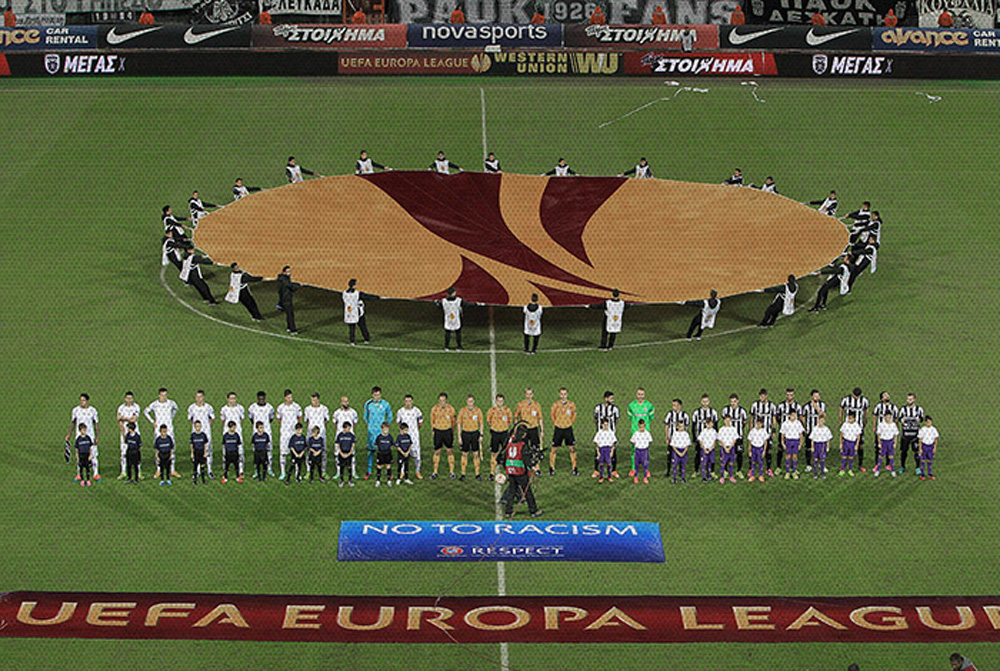 Those passing by Toumba's Gate 4 thirty minutes after the final whistle, would listen to the fans sing and would no doubt think that PAOK had defeated ACF FIorentina. The PAOK faithful are not crazy. They acknowledged the effort that the team put on Thursday evening in order to tame their famous rivals. However PAOK lost 0-1 to ACF Fiorentina, their first home defeat in a group stage encounter of the UEFA Cup/UEFA Europa League since 2005 (vs VfB Stuttgart). The final result cannot be regarded as a deserved one, as the "Double-Headed Eagle" fought throughout the encounter and especially after the interval.
In the beginning of the encounter, ACF Fiorentina seemed content to wait for PAOK ontheir half, but the home side's defence were fluffing their lines inviting their guests forward. It wasn't a match of many goalscoring chances, except for Federico Bernardeschi's miss after 6 minutes of play and Fiorentina's goal in the 38th minute, when Juan Manuel Vargas had to shoot twice to beat Panagiotis Glykos for the winner. Earlier Giannis Skondras had to retire (according to first reports, he suffered an ankle strain), but Stelios Kitsiou covered the void impeccably.
Angelos Anastasiadis shuffled his deck in the second half and the team attacked more, assuming the risk of leaving space behind them. PAOK came close to an equalizer through Stefanos Athanasiadis, Dimitris Salpingidis, Eyal Golasa and Răzvan Raț. However, Ciprian Tătărușanu and his defence held firm. Vincenzo Montella introduced Juan Cuadrado in order to secure victory via counterattacks but there wasn't to be any change on the scoreboard.
The most impressive sight on Thursday evening were the stands of Toumba, full of fans after the match. The PAOK faithful chanted incessantly and rewarded the team with their applause, as Angelos Anastasiadis' troops proved once again true to their word: they might go down occasionally, but never without a fight…
Line-ups:
ΠΑΟΚ: GLykos, Skondras (Kitsiou 10′), Vítor, Katsikas, Raț, Tziolis, Kace, Pereyra (Golasa 54′), Salpingidis (Papadopoulos 81′), Tzandaris, Athanasiadis.
ACF Fiorentina: Tătărușanu, Richards, Basanta, Pasqual, Tomović, Badelj, Vargas, Kurtić, Borja Valero (Lazzari 66′), Iličić (Marin 78′), Bernardeschi (Cuadrado 57′).