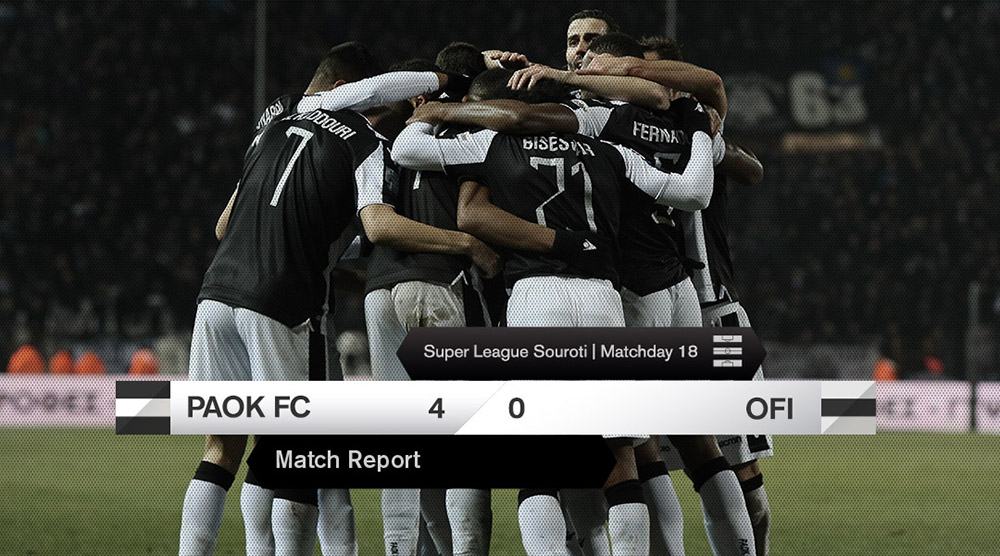 Goals, spectacular display, three points in the bag
PAOK were unstoppable in the first round of league fixtures. Their critics could only voice arguments regarding their effectiveness. That is not the case anymore. The "Double-Headed Eagle" have kicked off the second round with three victories, displaying attractive, high-scoring football.
Their latest victim was OFI Crete. The Heraklion outfit visited Toumba in dire need of points. They went head to head with PAOK for 20 minutes, but ended up trying to stop Răzvan Lucescu's players. That wasn't easy.
The home side produced excellent build-up plays, combination football, incessant running, were focused and demure and managed to score four goals, miss out on many more and add three more points to their tally.
Léo Matos gave PAOK the lead in the 24th minute heading the ball home following a Diego Biseswar corner kick. Eleven minutes later, Chuba Akpom culminated a great combination and made it 2-0 teed up by Léo Jabá.
The "Double-Headed Eagle" didn't take their foot off the throttle after the interval, gunning for more goals. Set up by Akpom, Jabá extended PAOK's lead in the 66th minute. The duo switched roles in the 80th minute, as the English forward got the assist by the Brazilian winger and completed his brace of the evening with an impeccable finish.
Line-ups:
PΑΟΚ: Paschalakis, Matos, Crespo, Varela, Vieirinha , Shakhov, Maurício (73' Cañas), Jabá, Biseswar (67' Pelkas), El Kaddouri (81' Świderski), Akpom.
OFI Crete: Strezos, Braun, Potouridis, Papazoglou, Giannoulis, Νastos (80' Ikonomou), Mellado, Neira, Sassi (62' Dinas), Korovesis, Vouho (68' Giakoumakis).