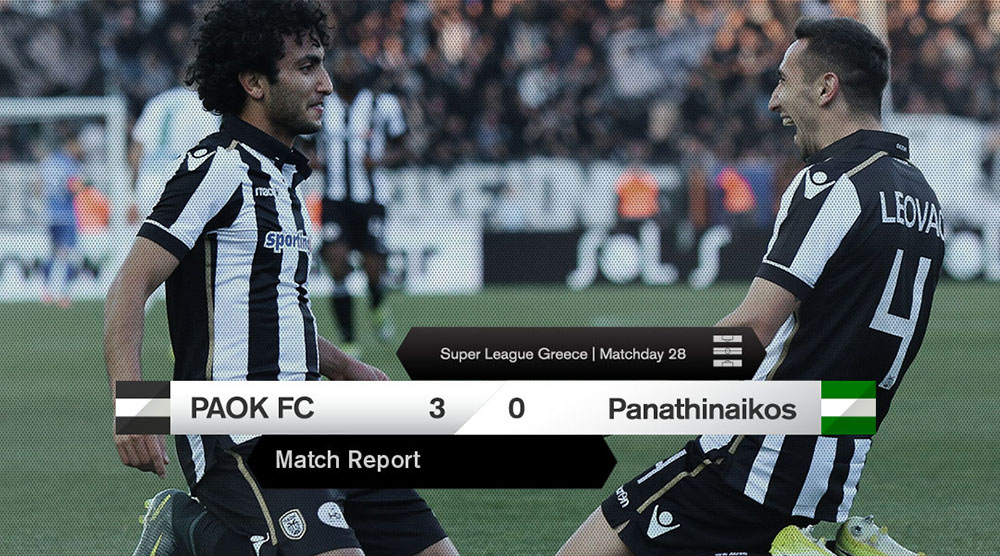 Account opened ahead of Cup clash
PAOK stormed to a dazzling performance and prevailed over Panathinaikos with three unanswered goals for matchday 28 of the Super League.
The "Double-Headed Eagle" produced an enthralling display and needed just 30 minutes to put the derby to bed. They finished off proceedings early and turned the rest of the game into a formality.
The black-and-whites were determined to get control from minute one, impose their pace and make their presence constantly felt in Panathinaikos's box.
Stefanos Athanasiadis came inches short from connecting a cross by Léo Matos from the right, after just 9 minutes of play.
In the 18th minute, Pedro Henrique took the rebound after Chouchoumis's weak clearance of an Amr Warda shot and tapped the ball past Steele and in off the inside of the right post for PAOK's opener.
Nine minutes later, the quick thinking of home players did the trick. They rushed to take a free kick in the midfield and, before their rivals knew what was happening, Warda served the ball to the far post and Marin Leovac finished in style to make it 2-0.
The black-and-white dominance was confirmed in the 35th minute. Dimitris Pelkas took the free kick, Matos collected the ball and teed up on-rushing Yevhen Shakhov who extended PAOK's lead with the goal at his mercy.
The Brazilian full-back drew an impressive block from Steele in the 39th minute with a header, while the Greens' goalkeeper was on call again four minutes later, pulling off a double save. He first denied Matos's close range shot and then did the same with Pelkas's effort.
Having a 3-0 cushion, the "Double-Headed Eagle" took it down a notch after the interval, aiming to remain dangerous but without exhausting themselves. Pelkas came agonizingly close to a fourth goal, firing wide with just Steele to beat in the 69th minute.
Lively Matos was once again on target, but Steele cleared his attempt. PAOK were running the show, literally doing what they wanted on the pitch. They wasted yet another incredible opportunity for a four-goal lead in the 78th minute, when Athanasiadis and Leovac were both unable to send the ball home from close up.
Every attack launched by PAOK spelled danger for Panathinaikos. In the 83rd minute, Steele was once again on high alert and pushed away the inswinging corner of Pelkas, while Warda drilled his shot past the post in the 91st minute.
That effort concluded an impressive display by the "Double-Headed Eagle", who extended their winning streak and boosted their morale ahead of the Greek Cup semi-finals and the Super League play-offs.
Line-ups:
PAOK: Glykos, Matos, Crespo, Varela (56' Malezas), Leovac (82' Kitsiou), Shakhov, Cimirot, Warda, Pelkas, Henrique (72' Campos), Athanasiadis.
Panathinaikos: Steele, Chouchoumis, Thelander, Evangelou, Mesto, Vlachodimos (63' M'Poku), Reis (82' Moledo), Zeca, Boumal, Klonaridis (56' Marinakis), Molins.