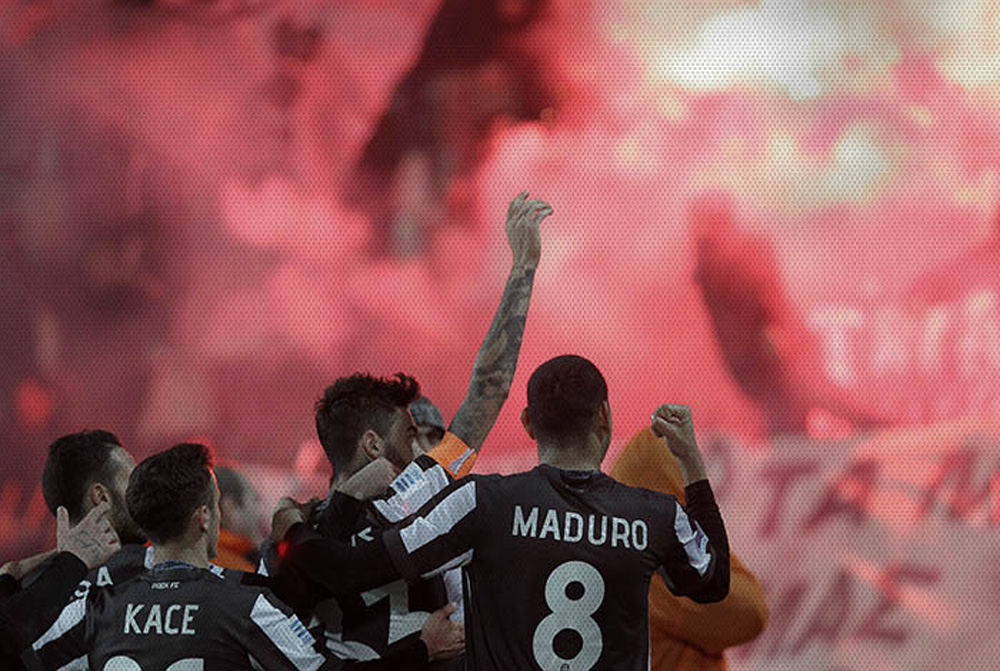 When the going gets tough, the tough get going…
In the first encounter of 2015, PAOK needed to start from where they left at the end of 2014. They did that by defeating Panionios –they had to dig deep, but they achieved it. Their 3-2 victory keeps them at the top of the standings. It was a match quite similar to the one at Livadia. Especially in the way it unfolded and in the role of the referee.
Panionios were lucky to get off the mark with a goal in the 1st minute of the encounter through Apostolos Giannou, as the visitors made the most of an error by PAOK players in midfield. Angelos Anastasiadis's troops quickly regained control of the encounter and leveled through a powerful header by Miguel Vítor in the 8th minute. Just two minutes later, referee Delfakis interpreted as penalty a duel between Vítor and Dimitris Kolovos in PAOK's box and gave Panionios the opportunity to take back the lead. Another set piece in the 30th minute permitted Hedwiges Maduro to score with a close tap-in and equalize for PAOK.
Panionios were extremely feisty and visited time and time again PAOK's box, but substitutes Eyal Golasa and Dimitris Papadopoulos gave the home side the edge, as they combined to earn a penalty in the 71st minute. Stefanos Athanasiadis converted the spot kick to give PAOK a 3-2 lead that remained unchanged until the end.
Line-ups:
PΑΟΚ (Angelos Anastasiadis): Itandje, Kitsiou, Skondras, Vítor, Raț, Maduro, Tzandaris (66' Golasa), Kace, Pereyra (90' Savvidis), Salpingidis (66' Papadopoulos), Athanasiadis.
Panionios (Marinos Ouzounidis): Papadopoulos, Tasoulis (86' Masouras), Pantidos, Ikonomou, Ibagaza, Boumale, Kolovos, Argyropoulos, Siopis (76' Fountas), Mitropoulos, Giannou.