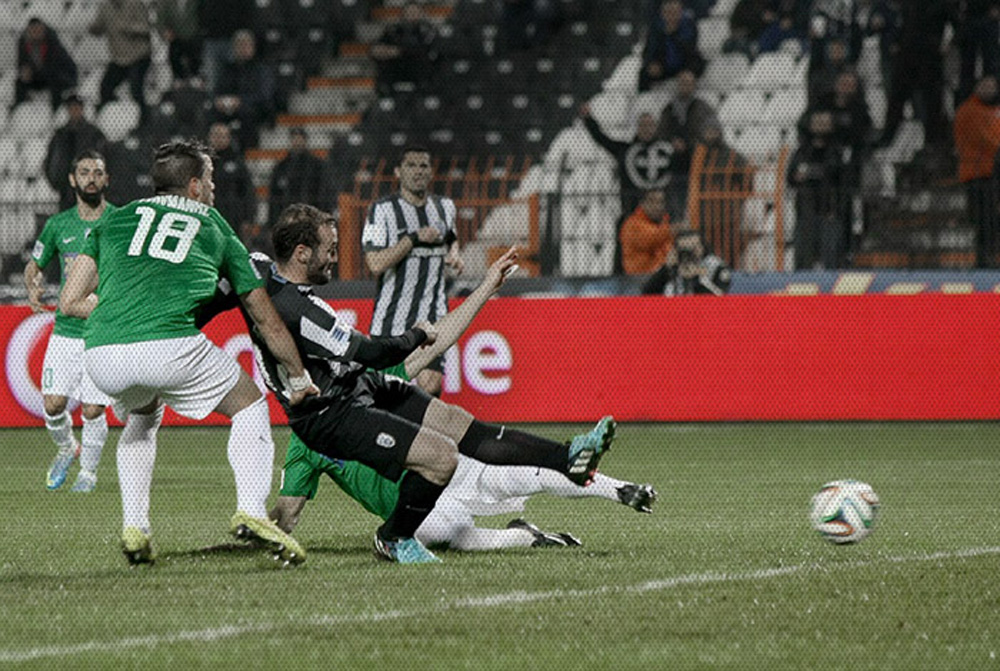 PAOK edged out a complicated 3-2 win over Panthrakikos to remain at the top of the standings, two points clear of Olympiacos. Despite falling behind, the "Double-Headed Eagle" didn't take long in finding the equalizer and finally moving ahead.
Angelos Anastasiadis' pupils hit the ground running and launched three clear-cut chances for the opener in the first seven minutes. At that point Dimitris Salpingidis caught the visitors cold and made it 1-0. In theory, that goal should have made things easier for the home side, as it was expected to unblock Panthrakikos' tight defence. However the complexion of the contest changed completely, as PAOK failed to add pace to their game and for all their creative potential they couldn't carve out decent opportunities to score. Buoyed by PAOK's misses Panthrakikos equalized with their first chance of note through Diguiny. It was Panthrakikos' first ever goal at Toumba Stadium, as they had conceded 12 in their previous 5 visits without getting off the mark themselves.
The home side began the second period on the front foot again, remaining in control of proceedings but were unable to capitalize. Panthrakikos would strike again, in one of the few times they visited Panagiotis Glykos' box, taking the lead through Tsoumanis' shot (55'). Angelos Anastasiadis took a risk with his substitutions, but it paid off, as his team responded well to the setback. Seven minutes after conceding and in a span of three minutes (62'-65'), PAOK scored two beautiful goals. Dimitris Papadopoulos netted a header following an assist by Salpingidis and Facundo Pereyra restored PAOK's lead with a direct free kick.
In the half hour until the final whistle. PAOK managed to secure their hard-fought yet deserved victory by settling on the ball, dictating the pace and handling effectively their fatigue and numerous absences.
Line-ups:
PΑΟΚ: Glykos, Kitsiou (46′ Skondras), Tzavellas (67′ Pozatzidis), Vítor, Spyropoulos (61′ Pereyra), Tzandaris, Martens, Kace, Salpingidis, Golasa, Papadopoulos.
Panthrakikos: Athanasiadis, Mejía, Tzanis, Cherfa, M'Bow, Baykara, Ladakis (73′ Okachi), Potouridis, Igor (50′ Cases), Diguiny (66′ Romeu), Tsoumanis.